EcoBoost Engine Technology Boosts Fuel Economy
As the temperature and gas prices rose across Canada this summer, environmental concerns will continue to be top of mind with Canadians - especially when it comes to purchasing a new vehicle.
Today, the number of kilometres per litre a vehicle can travel is one of the most important selling points for consumers, adding to a list of purchasing criteria that has traditionally included reliability, safety and price-performance ratio. While many technologies are being introduced to address fuel economy, including hybrid-electric vehicles and cleaner burning diesel engines, many consumers are looking for a solution that is familiar and affordable. One technology that can help lower fuel costs for a large number of consumers is the new EcoBoost engine technology from Ford. EcoBoost, an improvement on the traditional internal combustion engine, delivers up to 20 per cent better fuel economy. Unlike hybrids which have electric motors that charge when a vehicle stops, making them most efficient in stop-and-go city driving, EcoBoost engines provide consistent fuel economy regardless of driving conditions. "Compared with the current cost of diesel and hybrid technologies, customers can expect to recoup their initial investment in a 4-cylinder EcoBoost engine through fuel savings in approximately 30 months. A diesel will take an average of seven and one-half years, while the cost of a hybrid will take nearly 12 years to recoup - given equivalent miles driven per year and fuel costs," said Derrick Kuzak, Ford's group vice president of Global Product Development. So while the pain at the pumps is not likely to disappear any time soon, there are ways consumers can be green without giving up all their hard earned cash.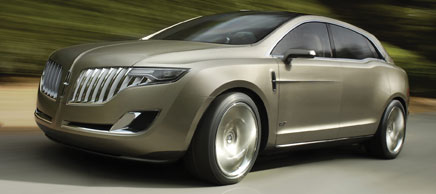 The Lincoln MKT concept features a 3.5-Liter V-6 EcoBoost engine with turbocharging and direct injection that produces the power and torque of a V-8 engine with the fuel efficiency of a V-6.
More in the print addition of Auto Atlantic. Get your free subscription here.