Another Mind-Blowing Success At Moncton's Atlantic Nationals
The weekend of July 10 – 13 was a record setting success for the city of Moncton!
The event saw a record number of car registrations with almost 1900. Almost 50,000 visitors hit the main venue at Moncton's beautiful Centennial Park. Overhaulin's Chip Foose was a huge success signing every autograph for the thousands of lined-up fans; he even provided some sketches!
Moncton's Main Street was closed to traffic and bustling with activity on Friday with over 500 vehicles on display. Among the spectators were some future participants. I saw some enthusiastic youngsters with their digital cameras taking many pictures of the brightly polished, colourful displays. It was a real family event with a festival atmosphere. There was a diverse mix of participants - from Peter of Peggy's Cove to Ivan of Codroy Valley, Newfoundland - all with one goal in common – to show of their polished gems.
Nationals Chairman Bill Doherty said the weather was perfect and many visitors had extended vacations in which to tour the Maritimes, "As the popularity of the Nationals grows, plus word-of-mouth too, many couples plan their holidays and stay an extra week." Doherty also publicly thanked the City of Moncton for their great venues and co-operation at the 8th Annual. Among the many deserved local initiatives that benefit from the Atlantic Nationals- a new wheelchair-accessible Kids Splash Park at Centennial Park. A number of grand prizes were won also including R. Glen Banks of Kingston, NS, who won the 'NAPA - Castrol F-1 Experience' - an all-expenses paid trip for two to Montreal's F1 Canadian Grand Prix in June of 2009. NAPA Port-A-Cool, autographed by Chip Foose, was also auctioned off for charity at the Nationals. The registered car owners also enjoyed a huge dance at the Moncton Agrina complex Saturday night with 'Donnie and the Monarchs' performing. And it bears repeating that this particular July weekend was outstanding with temperatures in the mid 20's both days and plenty of sunshine. Kudos to the City of Moncton, all the organizers and participants. A good time was had by all 60,000 + visitors; we're already looking forward to next year's festivities!
Special thanks also goes out to Marty Kingston of NAPA, who provided much of the information in this story.
TV star chip foose autographing a port-a-cool system in the NAPA tent!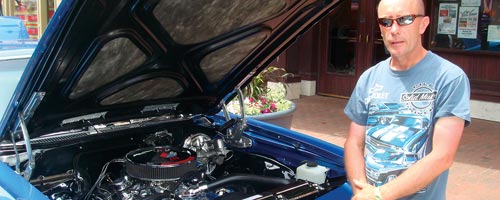 Peter Mason from Peggy's Cove, NS - a 'repeat fender'
Norm Colborne-NAPA, Neil McEwan - Port-a-Cool rep, Danny Hamilton - auction winner; Chip Foose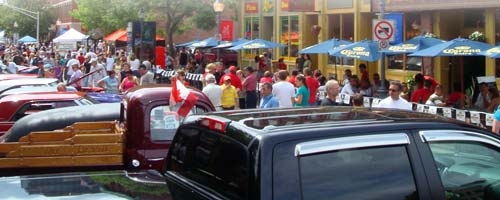 Main street sights
Auto Atlantic publisher, Robert Alfers checks under the hood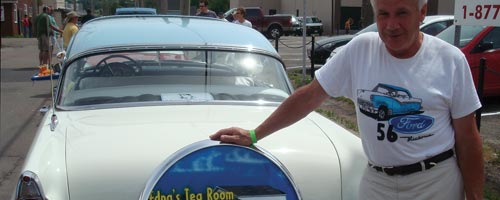 Ivan's 4 ever cool! Ivan Skeard from Codroy Valley, Newfoundland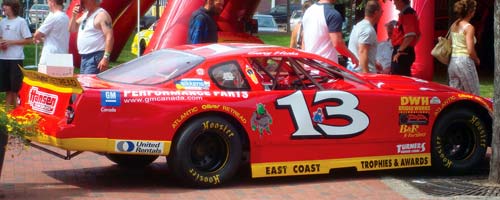 Of course there has to be a racing element at a car show
NAPA was there with other vendors
Even Military 'classics' were present. This one was quite popular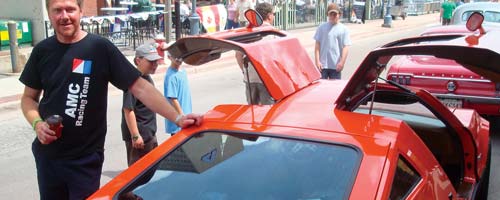 Dave from Moncton, NB and his orange Bricklin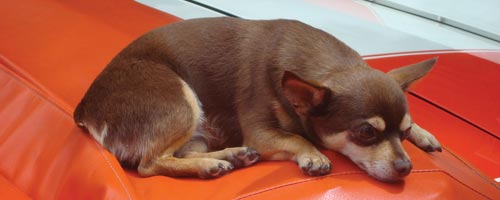 'Peanut' is unphased by all the attention
More in the print addition of Auto Atlantic. Get your free subscription here.