Heavenly Highways!
Our exclusive report on the major Highway upgrades in Atlantic Canada

With 55,000 kilometres of provincially maintained highways and roads in Atlantic Canada's four provinces, and nearly 8,300 bridges, combined with the fact that all four Atlantic Provinces are spending record amounts on highway improvements and upgrades this year, the result is more traffic disruptions than usual. There is a silver lining, however, all this activity is going to result in better and safer highways in Atlantic Canada.

Newfoundland and Labrador, Prince Edward Island, New Brunswick and Nova Scotia have agreed on a 10-year Atlantic Canada Transportation Strategy 2008-2018. Quoting from the report, this strategy "presents a vision for a state-of-the-art transportation system in Atlantic Canada, covering all modes of transportation (road, rail, air and marine) that supports economic and social development in the region with benefits to all of Canada," to address the current state of transportation in Atlantic Canada.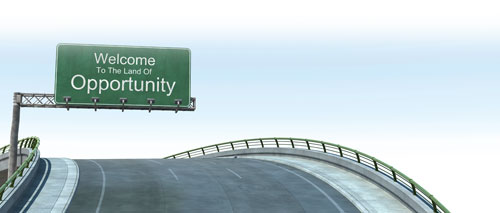 "Urban transit," the strategy adds, "Also plays an important role for travellers in municipalities in Atlantic Canada, moving over 24 million passengers a year." The report goes on to say: "Transportation is a key enabler of economic and social development," adding, "The most pressing need at this time is the region's strategic highways and needed rehabilitation funding to restore them to their design levels.
"All across Canada, rehabilitation requirements are outstripping current sources of funding." Without going into specific financial details, the report, which is available on the Nova Scotia Government's web site, www.gov.ns.ca/Tran, stresses the need for agreements between the provincial and federal governments for funding, and list the criteria for the regions highways to become part of the National Highway System.
What this agreement means for travellers through Atlantic Canada, is that over the next 10 years, we will see an increase in highway construction.
Grading at Coombes Brook, NB
And this means more disruption during the summer months. Atlantic Canada weather plays a significant role in the timing for highway construction in the Atlantic region. Some repair and upgrade work is possible during winter months, including work on the area bridges, but as an important part of any highway network, paving is not possible during the cold weather.
In addition, much of the equipment used in summer paving projects is converted to snow and ice removal over the winter months.
As the only Atlantic Canadian province with borders on the United States and Quebec, New Brunswick is in a unique position, in that all road traffic between Atlantic Canada and the U.S.A., or between Atlantic Canada and Quebec and Ontario, as well as western Canada, must transit through the province.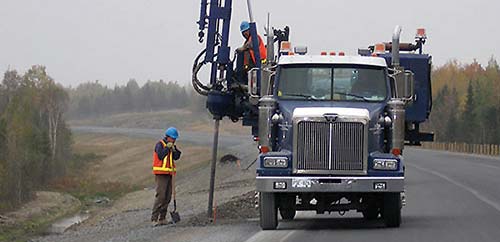 Guide rail installation north of Raymond Road, NB
Nearly 700,000 trucks travel between Canada and the U.S. through New Brunswick's 16 border crossings, with the highest volume using the crossings at St. Stephen, Woodstock and Edmundston. In addition, close to seven million passengers cross this border every year. Much of this traffic will use the Trans-Canada Highway, just over 500 kilometres for four-lane divided highway between the Quebec border and Nova Scotia. The final twinning on this highway was completed and opened to traffic last November. Despite the completion of this major undertaking, New Brunswick announced a record capital budget of $340 million this year, with $178 million directly earmarked for maintaining the province's highway infrastructure.
Major projects include the twinning of a 23km section of Route 1 between Waweig and St. Stephens, which will open this fall. In addition, planning is underway to complete the final 58km of the highway, which feeds traffic from the US-Canada border at St. Stephen, to the Trans Canada Highway. Plans are in place to start about half of that next year, and the government is currently working on arranging for funding for the rest. Extensive work is also underway this summer on Route 8, with work beginning on the 36km Nashwaak/Maryville By-Pass. The New Brunswick Department of Transportation reports, with their record budget, work will be going on in all regions of the province this summer, including major upgrading to Routes 11 and 17 between Miramichi and Bathurst.

The NB Transportation Department's web site, www.gnb.ca/0113 has a list of current projects that can be checked before hitting to road. The department reminds drivers that the province is very vigilant in catching speeders, and speeding in construction zones doubles any fines. In Nova Scotia, drivers will be relieved to hear that the detour on highway 104 during the early part of this summer has ended, but there is still considerable work going on which may cause slowdowns. With 23,000 kilometres of highway, including 4,100 bridges, managed by Nova Scotia Transportation and Infrastructure Renewal, the department employs more than 2,000 workers across the province.
The most obvious work this summer will be seen on Nova Scotia's 100 series highways, seeing that these roads service the majority of traffic. The 100 series highways total about 1,900km and to date about 400km have been twinned, with more twinning underway this summer.

Saint-Jacques to Québec border, NB
Upgrading of Highway 101 has been ongoing since 2000. By the end of 2008 fiscal year, more than $66 million will have been invested in the highway's twinning program. As well, twinning is underway between Falmouth and Avonport on Highway 102, with 11km currently being twinned, with a $37 million investment there in the next two years. Additional sections, from Hortonville to Coldbrook and past the town of Windsor, are also on the planning board. Nearly $100 million is being spent on twinning and upgrading projects on Highway 104 east of New Glasgow and near the town of Antigonish over the last few years, and this work is ongoing, with an additional 16km in the planning stages. Highway 103 has seen more than $66 million in improvements in the last few years, and work there is ongoing.
With one of the largest percentages (ranked third) of paved roads among Canada's provinces, Nova Scotia has been active in its upgrading programs, and has seen its budget for roads and bridges increase from $44 million in 1999 to $160 million in 2007. Twinning and upgrading will be ongoing over the summer, and continuing into future years, with some work occurring on most of Nova Scotia's highways during the warm weather. Motorists can access the latest information on road closures and delays by calling 511 from any phone in Nova Scotia and by entering any highway number along their route, receive bilingual road conditions on that route. With much of Prince Edward Island's economy driven by the agriculture and fisheries sector, both of which use a major amount of trucking, along with a vibrant tourist industry, highway travel gains a great deal on importance on the island.
While PEI doesn't have any twinned sections in its 5,648 kilometres of roadway, the province is very active in maintaining their roads to modern standards and providing necessary upgrades. As a result, several major projects are underway this summer. The Montrose Bridge on Route 152 near Alberton is being rebuilt and a detour is in place. Deck replacement is underway on the North River Bridge on the Trans Canada Highway and bridge traffic has been reduced from four lanes to two. Route 2 is being rebuilt east from Mount Stewart and the County line and is also receiving a rebuilt in the Portage and Pleasant Valley areas, with slight delays. Repaving, curb and gutter work is taking place on the Souris Main Street, with some detours, while road work at Crapaud on the Trans Canada Highway could cause some delays.

Highway work on Pitts Memorial Drive in St. John's, NL
Following in the steps of her counterparts in the Maritime Provinces, Newfoundland and Labrador Minister of Transportation and Works, Dianne Whalen, announced in January the province will invest $128 million in road improvements for the province, the largest such funding in the province's history. The funding includes $17 million for construction of phase III of the Trans Labrador Highway. The minister also announced a number of projects that will be cost shared with the federal government, including hard-surfacing of Phase I of the Trans Labrador Highway and extensive National Highway System projects.
In a province that has no train service, highway travel takes on increased importance and the announced highway funding budget generated a spate of press releases announcing highway projects, too numerous to be listed in this article, which cover all parts of the province. Travellers can access a list of ongoing projects and highway conditions by connecting to the Transportation and Works Department on the province`s web site, www.gov.nl.ca.
This summer, then, is typical, with road construction a daily occurrence. Will it ever end? Of course not. It is an ongoing project necessary to maintain our highways. But the frustrations can be lessened by checking ahead and allowing a bit more time to make the journey.
And remember to slow down and obey the special traffic laws in highway construction zones, not only for your own safety, but also for the safety of those performing the work to make our highways better, and safer.


More in the print addition of Auto Atlantic. Get your free subscription here.