Federal government announces apprenticeship Help
The Honourable Monte Solberg, minister of human resources and social development has announced two new projects that will promote apprenticeship as an effective training model. Speaking at the Canadian Apprenticeship Forum's (CAF) 2008 Apprenticeship Conference, Minister Solberg announced a total of $1.37 million in funding to the CAF.
"Apprenticeships are crucial to building a highly skilled and mobile work force," said Solberg. "Apprenticeships lead to the kind of successful and rewarding careers that Canadians deserve and expect in today's demanding labour market." The Government of Canada will provide the CAF with $1,117,367 in funding through its Sector Council Program.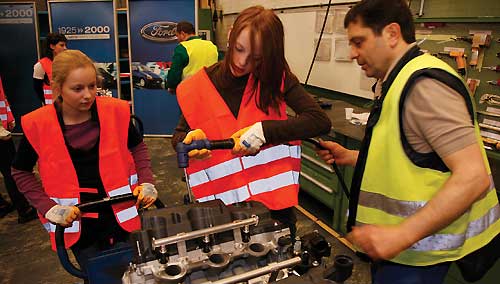 Future mechanics maybe?
The government says this will help increase engagement and awareness of apprenticeship training and programs among employers, as well as provide them with the information and tools they need to attract and retain apprentices. An additional $262,607 will be provided to the CAF to examine the key barriers to accessing and completing apprenticeship in Canada, and what is being done nationwide to address them.
"Building a business case for apprenticeship training is what the CAF is all about," said Mr. Dan Mott, CAF Chair. "Apprenticeship training provides a return on investment, increased productivity in the work place, lower recruitment costs and improved retention, and it makes good business sense."

More in the print addition of Auto Atlantic. Get your free subscription here.