Handing over the reins
It's never too early to start business succession planning
According to the Canadian Federation of Independent Business (CFIB), one of the main reasons for failed successions is the lack of adequate time to plan and execute the succession of the business. Therefore, it is never too early to start planning. Many Canadians have built their wealth by operating a small business or will realize substantial wealth when their private business is sold. In a recent study by the CFIB, approximately 40% of all Canadian entrepreneurs plan to exit their business within five years and 70% within 10 years.
However, the same CFIB study indicates that only one-third of business owners have a succession plan for the transition of their business to the next generation or for the outright sale of the business. Of those that have a succession plan, 82% indicate that the plan helped them plan for their family's future.
In addition, other benefits of a succession plan that were cited include:
Minimizing tax
Improving the financial stability of the business
Maintaining family harmony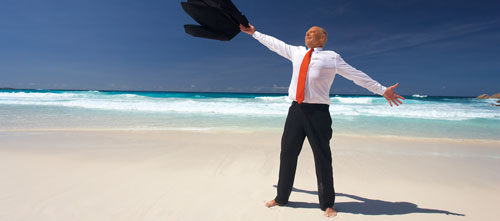 It's all about being able to retire in peace
Here are some key issues that you should consider for a successful business succession plan, along with the tax and estate-planning strategies:
Choose your successor wisely
Communicate openly with your children and determine which child is most interested and most capable to lead your business. In some cases, you may have to choose a non-family member, such as a key employee, to take over your business; or you may need to sell the business outright.

Let your chosen successor lead the plan
Dr. Dean Fowler, a family business consultant, proves that the traditional succession plan where the senior takes the lead, focusing on estate planning, tends to fail. However, plans where the chosen successor takes the lead, focusing on management succession and strategies to buy out the senior, are much more successful.
Groom and transition out
Have your chosen successor gradually take on more responsibility and meet key business contacts well before you transition out. Then be willing to let go of the lead. Have faith in your chosen successor to take over the business.
Hire an external advisor for assistance
There are professional family business succession facilitators with years of experience to assist your family with the succession plan. Having a neutral third party facilitating the discussion in many cases can help open the lines of communication between the parents and children and lead to a more successful transition.
Fair does not mean equal
In order to maintain family harmony, it may make sense to give children who aren't involved in the business fewer assets or other assets such as non-business assets, securities or life insurance proceeds as part of their inheritance, instead of giving them active business shares. Succession planning should start five to 10 years before your retirement age.
Consider key financial planning strategies
An estate freeze to minimize taxes
A shareholder's agreement that addresses business ownership issues triggered by events such as retirement, disability, death, etc.
Insurance to cover unforeseen events or fund buy-sell arrangements
Remember, it's never too early to start business succession planning.
Allan Morse is Vice President and an Investment Advisor with RBC Dominion Securities Inc. in Charlottetown, PEI. Member CIPF. Allan can be reached at 1-800-463-5544 or at allan.morse@rbc.com. This article is for information purposes only. Please consult with a professional advisor before taking any action based on information in this article. Hold on, you won't believe what will happen in the next five years. If Management has not stayed ahead of the wave, then he/she is currently under a great deal of business stress. .
More in the print addition of Auto Atlantic. Get your free subscription here.