A current look at Nova Scotia Gas regulations
RGDA of NS Executive Director Graham Conrad recently provided a current report to the government on the impact upon Nova Scotia motorists from regulations. The most obvious change within the Industry is a complete reversal of a trend where Halifax prices (excluding taxes) were historically higher than the Canadian Average of 60 cities surveyed weekly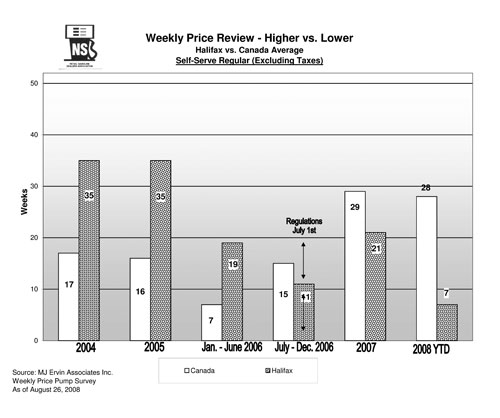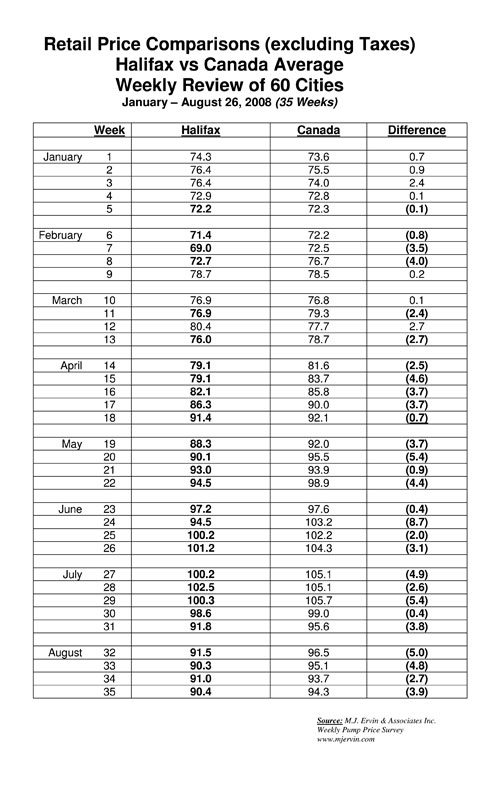 As of August 26 Halifax prices, which are the base prices for the province, were lower than the Canadian average 28 of the past 35 weeks. The full impact from this scenario can only be appreciated when the weekly differences are examined and projected in terms of additional costs that Nova Scotia motorists might have otherwise incurred without regulations.

Source of this information is the M.J. Ervin & Associates weekly survey.Retailers around the province report that motorists strongly prefer the price stability and improved understanding of price setting from regulations. Weekly price setting has enabled motorists to better manage transportation costs, better understand when changes are likely to occur and by how much, indeed, price setting has regularly resulted in decreasing prices before long weekends.

Gasoline retailers, especially rural outlets, have a greater chance to improve margins either by opting into regulations or using regulations to negotiate a better deal from their oil company supplier. Since 2007 retailer closeouts have dramatically decreased and in fact 12 new outlets have opened or re-opened during this period.
Conrad stated that retailers still have major challenges facing them vis a vis high costs of gasoline, rising operating expenses, especially credit card surcharges, increasing drive-offs and developing a stable workforce to name a few. He stated that Tourism Nova Scotia and the motoring public should take some comfort in knowing that the huge number of retailer closeouts (120) that occurred since the fight for regulations began in 2005 appears to be over.

Filling up at a Truro, NS Shell station
More in the print addition of Auto Atlantic. Get your free subscription here.