NAPA News Around the Atlantic
NAPA 200 in Annapolis Valley!
While most race fans would have preferred to actually attend the NAPA 200 NASCAR RACE in Montreal in August, the Valley NAPA Auto Parts stores hosted their own NAPA 200 RACE get together in New Minas, Nova Scotia! The function was well-attended by many of the loyal NAPA clients and the event featured of course Pool & snooker, food and many NAPA prizes! It was the next best thing to being there in Montreal as well as an opportunity to mingle with fellow automotive industry colleagues and representatives. A job well done to Peter and Bruce Dupuis and the 6 Annapolis Valley NAPA stores for hosting such a great function. Some of the prize winners included Lloyd Jollimore of Port Williams, N.S., with the plasma television, alongside NAPA Kentville manager Dave Tenyenhuis and Ian Banks and Lisa Snyder of Kentville, who won the NAPA NASCAR Racing jacket, alongside Ian.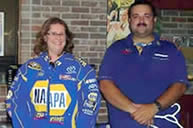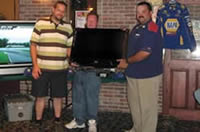 Uni-Select hosts VIP tent at
Riverside Speedway, NS
Uni-Select, along with major suppliers, put together an incentive program with the jobbers and installers to be invited to the VIP tent at the IWK 250 race held at the Riverside Speedway in Antigonish Nova scotia. The weather was perfect and a total of 160 qualifiers joined the boys for a pre-race BBQ and prize draws. Several suppliers were on hand to interact with the installers on a social level. Post-tent action was full bore with the race running until 12:30 am under the lights. Comments from installers needed one word to sum it up (AWESOME !!!!) "Can't wait for next year" came from all. Thanks to all who participated, and thanks to the suppliers that sponsored this terrific event! Hope to see you there next year!

From left to right: Jim Miller ( Federal Mogul), Eric Allen (Mevotech), Barry Keirstead (Affinia), Terry Theriault (Bluestreak), Eric Harry (Affinia Ð tall in back row), John Robichaud (Tenneco), Steve McGarrity (Dayco), Keith Farrell (Uni-Select ), Ken Godin (Exide), Ron Lewis (Wilson Ð red shirt front), John Coyle (JD Coyle Sales), Andrew Benner (Benner Sales)
Castrol sponsors Targa's only Platinum competitor, Buchanan
This year Targa Newfoundland is Jud Buchanan seventh escapade on The Rock making him the only competitor eligible to receive the Platinum Targa Plate this year, awarded to a competitor for completing every stage of the rally at a competitive speed for six years in a row. Castrol sponsor logo has been on the modified "67 Acadian each time it headed east. Through his six runs, Buchanan has racked up impressive finishes and lots of adventures, but has so far never won the overall prize. With five excellent finishes, a 4th, two 3rds and two 2nds, Targa fans are likely speculating that 2008 will be the year we finally see the Castrol powered Acadian in the winners" circle.
Perhaps it a good omen that the prestigious Hot Rod magazine recently featured the car in a full-blown feature. Co-driver of the Acadian is Jim Adams from Pickering, it Jim's third year with Buchanan and his impressive finishing record for Targa in his pair of attempts is the two 2nd Place Overall finishes. The team crew is Chris Gillard from Norval, ON and Art Visser from Halifax NS. Besides Castrol, St John Chevy dealer, Hickman Motors, sponsors the entry.
Way to go Jud!
The Castrol sponsorship includes help with expenses like the ferry to Newfoundland as well as complete supplies of Syntec engine oil and transmission, differential, power steering and brake fluids. The company excited to sponsor Jud again this year, according to Marsha McLaughlin of Wakefield Canada, the exclusive Castrol distributor in Canada. "The Targa route is as tough as it gets. Jud and his team continue to show how hard you can push our products."

More in the print addition of Auto Atlantic. Get your free subscription here.