Let it Snow!
Another East Coast Winter On The Way

Snow, of course, means different things to different people. For children, by and large, snow means fun. Coasting and tobogganing, snowmen and snow forts, or just simply romping through the drifts and making snow angels. And let's not forget snow days, an extra day from school. For the outdoor enthusiast the ski hills and snowmobile trails beckon. But, for all of us, snow means a disruption of our regular routine. Cancellations and traffic problems, just to mention a few. And of course, all that snow has to be removed from streets and highways, parking lots, sidewalks and driveways. After all, you have to get to the ski slopes before you can enjoy them. With more than 55,000 kilometres of provincially maintained highways and roads in Atlantic Canada's four provinces, there's a lot of snow to move.
Provinces maintain fleets of equipment geared each winter towards keeping their highways safe, using tons of salt and chemicals as an aid to the plowing operations to keep highways clear of snow and ice. Typically, provincial snow removal equipment is on the road shortly after a storm begins, plowing and salting even while the snow falls, keeping highways and roads passable to allow transportation to move during the storms.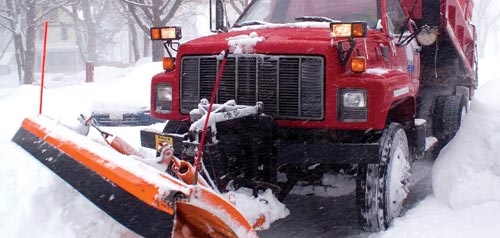 The operation usually doesn't end until long after the snow has passed, especially after the heavier snow falls, where often the roads haven't been plowed to their full width in order to maintain a lane for passage. Post storm operations are aimed at making sure that highways and roads are cleared to their full width and that pavement is cleared of ice. Between storms, ice and blowing snow must be kept off the highways, so that snow removal and safe driving conditions are an on-going operation for all four provinces. And as far as safety considerations are concerned, all four Atlantic Provinces have set up extensive reporting procedures to advise the public of the condition of their highways, using media, internet and telephone to make highway condition information available to the public.
All four provinces regularly inform TV and radio stations, as well as newspapers, of highway conditions and have a network of weather cameras set up on provincial highways which give real-time views of highway conditions.
Canada's Weather Network, www.theweathernetwork.com, has links to these cameras, which can also be accessed from official provincial web sites. New Brunswick's, official web site at www.gnb.ca will afford links to check out highway conditions, and their highway camera network, which covers all parts of the province, can be accessed at www.gnb.ca/0113/cameras.e.asp. As well the province operates a highway conditions phone line where drivers may obtain up-to-date road conditions by calling 1-800-561-4063. In Nova Scotia, motorists may dial 511 and learn current highway conditions by keying in the highway number. As well, the provincial web site, www.gov.ns.cs has a link to a highway conditions page. Go to the main website, click on "Departments/Agencies," then "Transportation and Infrastructure Renewal" and finally "Road Conditions." This link contains a map showing road conditions and also a list of problem areas due to conditions or construction.
For information on Prince Edward Island highway conditions, simply go to the government web site at www.gov.pe.ca and click on "Road Conditions" at the bottom of the home page to access a highway list showing current conditions. The page also contains a link to an interactive map of P.E.I.'s highways and roads. For travellers in Newfoundland and Labrador, the province has a specific site, www.roads.gov.nl.ca which gives comprehensive highway conditions information, including winter driving conditions, construction slow downs, live highway cameras and even a moose advisory. In addition, the page provides a link to the Environment Canada Weather Office.
One note of warning, however; from time to time weather cameras may not be working and the view shown therefore may not be current. As well, road reports may occasionally be delayed, so it is important to note the date and time of weather camera views or road reports to be sure that up-to-date information is displayed. While clear highways are an important part of winter transportation, equally important is the ability to navigate the streets in the area's cities and towns. Like their provincial counterparts, municipalities put a lot of time, money and effort into maintaining the streets of their communities to ensure that their citizens are able to go on with their daily pursuits.
A quick look around the Atlantic region indicates that New Brunswick and Newfoundland and Labrador, especially the northern regions, bear the brunt of the snow fall, which won't be a big surprise to most. Bathurst, NB and Gander, NL both had to face more that 500 centimetres of snow last winter, and there are probably areas of Atlantic Canada that got more. Charlottetown, PE received slightly over 400 cm, but interestingly, Summerside, which is only 60 km away, got less than 300 cm. Likewise, St. Anthony, NL, which usually receives tons of snow, situated as it is on the northern part of Newfoundland, last year received just over 200 cm.
Nova Scotia got off the best, with Sydney, NS and the Robert L. Stanfield International Airport topping out around the 300 cm. Mark. However you look at it, there is a lot of snow to plow, and cities and towns are also faced with the problem of where to put the snow. With businesses and homes located next to the curb on most streets, municipalities don't have the advantage of wide shoulders that highways have to store the snow until it melts, and have to transport the snow from downtown streets to fields, or in the case of coastal communities, the ocean. Like their highway counterparts, municipalities employ a fleet of snow removal equipment, that are often supplemented by private contractors.
Snow removal on a provincial or municipal level is an expensive business, but not as expensive as the loss incurred when business and commerce cannot operate.

It doesn't end there, however. Having clear highways and streets is not a lot of help if people are not able to leave their homes or enter their place of employment or access places of business, and provinces and municipalities don't plow driveways and parking lots. In some cases, larger businesses take care of their own plowing, as do many home owners. But, for many, the option is to employ commercial snow removal operations to satisfy their needs.

Auto Atlantic spoke with Paul Raymond, President of Parts for Trucks to get some insight into the problems faced by these operators, and the solutions available to keep them on the road.

Parts for Trucks is the largest distributor of heavy duty truck and trailer parts in Atlantic Canada, with 15 locations in all four Atlantic Provinces, and have been serving the trucking industry since 1919 when the company, called Scotia Equipment early in its life, began in Halifax, NS. With the experience of dealing with clients that include governments right down to individual operators, Raymond has a good feel for the industry, and offers some good advice.
When we talked in early September, Raymond felt that that was when operators should be putting everything together for the season. "I guess I would say September would be a good time to be getting ready," he said. "For those people who are buying new equipment there's always incentives (in September). "There's new products available this year, all of that needs a little study and consideration. You need to reflect on what piece of equipment is best suited for the job and what you need to do." If Raymond has one message, it's the need for proper preparation. "For people who have existing plow equipment, it's always good to get it all connected, check fluid levels and check for any rust or damage over the past winter, and, it seems kind of silly to say this, make sure it hasn't been stolen.

"A lot of times the plow assembly is put away behind a shed or out of sight and it happens every year, we have a couple of calls where people don't realize the plow has been stolen months ago and don't know until they go looking for it when the snow is falling. Raymond points out the need for proper planning prior to the season to ensure that the operator has the equipment he needs to properly do the jobs he has contracted to. This depends on his customers needs, so it is important to know what you are contracting for before you make the equipment purchases. Snow plow equipment is not cheap, and an operator can tie up a lot of money in equipment, so it is important to get it right.


Which is why Raymond suggest the importance of starting early in the negotiation process when dealing with customers so the contract spells out exactly what services will be required. And, equally important, that the operator understands what his equipment requirements will be to properly provide the service. "What's frustrating," Raymond states, "It depends on the particular plow, but they can easily have a 10-year life, or longer, and it's very questionable to install a piece of gear that should give you 10 years or more of service and it doesn't because it wasn't the right application, because you were forced to pick something that was available immediately instead of something that you really wanted." Raymond and his staff are ready to assist operators in the selection of that equipment. "Ultimately, the end user knows their particular operation better than anyone," Raymond agrees. "What we can do is explain the range of products that are available, there are new products out this year and the past couple of years, so there are some new options to consider. What we typically see, the customer and our expertise (combine) to determine what is the best option for that particular application, recognising that everyone always has a little different slant on it and what works for one application may be different for another one."
Raymond has one last message: "There's money invested in the product and moreover, your service to the customer if you're a contractor. Even if you're doing it privately, clearing a driveway for your own use or your business, do you really want to compromise that service because you left the decision to equip your vehicle till the very last minute, or to get the equipment ready at the very last minute. There's no particular savings if the service to the customer has been disrupted because of that. You're behind before you start. It wouldn't cost any more to do it earlier instead of later. You're not going to maintain that relationship with your customer by having a yard that's full of snow, or you're scrambling to clear the yard for your customer. That's a poor way to start the season."

More in the print addition of Auto Atlantic. Get your free subscription here.