Want to survive & prosper? The Atlantic needs a paradigm shift


Consider that vehicles are still moving out there albeit fewer kilometers over all are being driven. That being said, the vehicle still must be professionally maintained.

Over my career all I have ever heard from this sector of the industry is sell, sell and sell. Close that deal. Get that job. Get the car count up. I need more volume. Are you busy? Keep the boys in the back going. Give me a better price.

Someone out there has to say it, so I will; "Give our heads a shake, what the hell are we doing?" Our industry has never understood itself and now we continue to hang on to business practices and processes that are equivalent to cave man days. Can we wake up and understand the new world or are we totally afraid to recognize and embrace a new reality?

If you will not take the time to relearn this business and totally shift the thinking and culture of your shop business to the required level today, then the best recommendation I would have for you is . . . get out now. The "new game" has just begun.

First we must acknowledge:
Have we ever considered that being a licensed technician or business owner in the Aftermarket today is a true "Profession"? No, we still think of it as a "Trade." Have we ever considered that the consumer out there doesn't understand the technology on their vehicle? No, we haven't educated them.

Then we must think different:
Here is the paradigm shift that is required for every shop owner and technician to get their head around. You no longer "sell" anything to the consumer. Today you have to recognize that you are being "hired" to advise and counsel them. "I love the vehicle I'm driving but that doesn't mean I understand it.

Who do I go to for Professional advice and service? Who do I trust to ensure I get the maximum life and financial return out of my vehicle? Who is going to understand that I pay for all my vehicle services with MY "after tax" dollars? Who will take the time to listen to my personal situation and guide me accordingly to ensure my vehicle remains reliable and safe for me and my family?"

I submit that we are an extremely self-serving, self-centered sector, always thinking about "Us" and not the "Customer, Client". How do you build trust based on that? How can I prove it? The average shop out there wants more car count and more sales volume so they try to discount themselves into prosperity. They haven't done the math. They watch their "activity" coming through their shop not the constructive "productivity" required to be measured today per transaction that tells the shop how professionally effective it was with each customer/client. Shops that are activity based has nothing to do with taking the time to understand, educate and counsel the client base on "their clients" circumstances.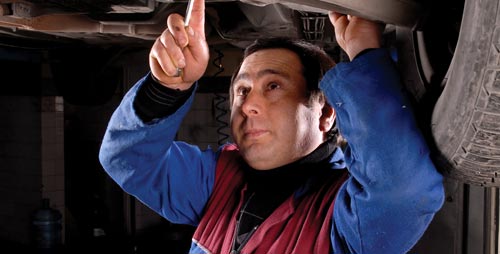 The two key words that must be clearly communicated with every customer and client coming through the door today is, "reliability and safety." In tough economic times reality is that even basic maintenance will be neglected today. They don't have the cash! . . . however, it is our professional responsibility to understand every customers' situation and advise them accordingly, in, writing to ensure that their vehicle remains reliable and safe for them as they charter their way through these uncertain economic waters.

This means that although the vehicle requires $800 worth of work today to keep it right up to date, I, your professional adviser who understands your situation am counseling you that to ensure your vehicle is reliable and safe it will need $275 to be done today. We will work with you over the coming months to make sure the vehicle gets back up to date which will also ensure the right financial return is realized for you that you, our valued client, is expecting. This new business process will require more time with each customer/client. Front counter processes must be adjusted. New daily, weekly and monthly measurements must be put into place.

This new reality may end up with less billed hours per transaction than last year however in the long run it will serve us very well. Trust and confidence in the shop is built. Word of mouth spreads. More referrals come through your door. The business continues to move forward and the business grows during challenging economic times. Others in the industry look around and ask "how come that business is growing, what are they doing that I am not?"

If Management can't see the bigger picture and bring the entire shop team on board with a clear understanding of how the business will get through 2009 and 2010 explaining everyone's individuals role and responsibility then the shop will struggle potentially forcing staff layoffs. The owner ends up moving back into the bays to buy himself a job and a poor one at that. No time off, family stress increases and cash dries up. That is not the picture any business person wants to experience.

The facts are we are in an economic climate that has never been seen by this generation before. The last time it was this serious was in 1930. We must be on top of our professional skill level today. We must understand and embrace the new rules, the new paradigm. We must bring out and use every single detailed management skill that recognizes today's business reality and throw out the old thinking that doesn't address the customer/clients living reality.

2009 must be THE year of transition. 2009 and 2010 offers incredible opportunity for the Aftermarket to move forward as never seen before, however, if the "old" managers from yesteryear won't let go of their ways and revamp, then our sector will continue to shrink over the next 10 years. Our families and our staff's families will be affected. Let's understand that it doesn't have to be that way at all.

Let's start getting vocal throughout our sector about this and aggressively move forward into a paradigm that creates a professional culture and future for all of us. We are the Atlantic Region Aftermarket. We are in the quality and true service business and we will not let you down. This is the pride and culture of what we do.
About The Author: Mr. Robert (Bob) Greenwood AAM (Accredited Automotive Manager) is President and C.E.O. of Automotive Aftermarket E-Learning Centre Ltd. (AAEC), a technology company focused on sustainable Business Management Resources and Development for the Independent Sector of the aftermarket industry utilizing the internet environment.
More in the print addition of Auto Atlantic. Get your free subscription here.