Atlantic Report


Nova Scotia 9th annual
automotive industry awards

In spite of the inclement weather, 76 hearty Industry representatives and stakeholders showed up to enjoy the evening. Ms Shannon Smith, Automotive Sector Council Executive Director, was the master of ceremonies. The evening featured Mr. Bob Greenwood as key note speaker. Bob is very well known within the Industry nationally and is President of EK Williams Co (Ontario) and is a contributing writer to many Industry trade magazines (including Auto Atlantic).




Shannon Smith and Dale Finch


Bob Greenwood




Rob Ward accepting on behalf of recipient Keith Snair, with Glenn
Curting and Rod Palmer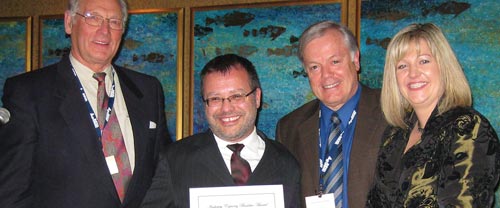 Lindsay Gates, Brian Slaunwhite, Graham Conrad and Shannon Smith




Jack and Debbie Hadley, Kim and Lester Chambers, Kirt and
Dana MacDonald, Danny MacLaughlin and Trish and Chris Kelvey


Bob gave an extremely interesting and enjoyable presentation on important issues affecting our Industry and how Business owners can make appropriate changes to face the challenges Automotive Industry Service Providers must now deal with.

Following Bob's presentation, awards were given to employees from three Industry employers; namely Canadian Tire Clayton Park, Canavans Insurance Appraisers, and MacPhee Pontiac/Pontiac Buick. Employee recognition was a new item on the agenda, and it will surely be expanded for next year's venue. Recipients were: Mike Facey, Mike Hiltz, Glenn Cutting, Rod Palmer, Keith Snair, Mitch Curran, Curtis Giles, Chris Kelvey, Danny MacLaughlin, Jack Hadley, Debbie Hadley, Lester Chambers and Kirt MacDonald.

On behalf of the Automotive HR Sector Council of NS, Employers, and Industry Partners, Ms Smith talked to the importance of honoring the employee, (continued on page 48) "Automotive employees are the heart of the industry. It is their dedication, quality of workmanship, and initiative to deliver exemplary customer service, that creates growth in the automotive sector. The future of the workforce depends on their initiative, creativity, productivity and will to mentor the next generation.

It is all of our responsibilities to develop new employees and share with them, the highest standard of service that we strive to achieve in our workplaces."

A highlight of the evening was the presentation of the Industry Capacity Builder Award to Mr. Brian Slaunwhite, formerly Ferguson's Auto Parts and now Parts Source. Brian's family business has served the Industry since 1926 and Brian's list of accomplishments and credits to the Collision Repair Industry have been very much acknowledged and appreciated. Ms. Smith expressed her appreciation to those in attendance, to the event sponsors and to Mr. Dale Finch, Executive Director of the Automotive Retailers Association of British Columbia, who spoke to the delegates and participated in a very proactive exchange of information.

Event sponsors were: Greater Halifax Partnership, Automotive Retailers Association of British Columbia, Scotiabank, Steele Auto Group, A.P. Reid Insurance, Automotive Trades Association of Nova Scotia, Power Dempsey Leefe & Reddy, St. John Ambulance, Apprenticeship Nova Scotia, Collision Repair Association of Nova Scotia and the Canadian Automotive Repair and Service Council.

Delegates were reminded that the next formal gathering of Industry will be the ATA Conference May 23rd at Old Orchard Inn.
_____________________________________________________________________________
NAPA store celebrates 30th
anniversary!
Photo, left to right, Fabien Hache, receiving award from NAPA Atlantic
Sales Manager, Bob Battis


The former (UAP-NAPA) associate store was opened in 1978 by brothers Fabien and Benoit Hache. The store, called Auto Centre BF, was also recently purchased by Florent Chiasson, a well-known businessman on the Acadian Peninsula. Fabien Hache will remain with the NAPA Shippigan store for the transition period as an advisor. Congratulations to NAPA Shippigan on thirty years of outstanding service to the automotive aftermarket!

_____________________________________________________________________________
NAPA 'HRM' stores put on
customer 'Gala' night!
NAPA client appreciation' night was recently hosted by the NAPA Stores in Halifax Regional Municipality


The function was held at the Tap Room in Downtown Halifax and despite snowy conditions, over 120 people attended - representing 40 repair centers in Halifax, Dartmouth and Lower Sackville. A number of great prizes were awarded during the evening.
($3000.00) Travel Voucher won by Rick Morine of Morine's Midas- Lower Sackville, NS.
White Point Lodge Weekend Getaway won by Mike Kennedy- Quinpool Petro-Can Certigard, Halifax, NS. Haliburton Inn Package won by Jeff Cox - Cox's Auto Clinic, Dartmouth, NS.
Other great prizes included an Apple iPod, a DVD player, a Tool Box, a Digital Picture frames and gift certificates.







Top photo - a happy group of NAPA winners! Bottom photo - NAPA
AUTOPROS Bill Gray (left) and Rick Todd (right) share a chuckle
with NAPA District manager Brent MacDonald


More in the print addition of Auto Atlantic. Get your free subscription here.