Shawn Tucker touted as one of Canada's best
Tucker, a resident of Fredericton, New Brunswick, became only the second multi-time champion on the series when he clinched his second title last year, having earned his first series championship in 2004 when he was also nominated for the same award. "It's a great feeling to be nominated again, and kind of amazing considering the season we had (in 07)," said Tucker. "We only won one race but we were able to score seven top-five finishes. It was our consistency that really paid off." While the nominees for the Inside Track News annual awards are decided by journalist contributors to the magazine, the winners are chosen by the race fans—so maritime motorsport fans are urged to rally together and login to the Inside Track News website to register their vote for Shawn Tucker as the 2007 Canadian Stock Car Racer of the Year.
Shawn Tucker is one of six talented 2007 champion racers nominated for the Inside Track News Reader's Choice Canadian Stock Car Racer of the Year Award. The list also includes: Barry Bischoff (NEWALTA Late Model Series champion); Mario Clair (358 DIRT Modified championship crown at Autodrome Drummond and Hoosier Tire-Sunoco Race Fuels Mr. DIRTcar 358 Modified champion); Patrick Laperle (American-Canadian Tour champion); Andrew Ranger (NASCAR Canadian Tires Series champion); and Derrick Tiemersma (OSCAAR Outlaw Super Late Model tour champion).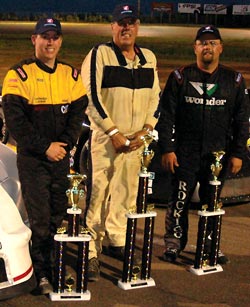 Shawn Turple, Rollie MacDonald and
Shawn Tucker at Shediac, NB
Shawn Tucker has been a pro stock division racer since the first time he got behind the wheel of a racecar 17 years ago. In that time he has become one of the most recognized names in Maritime motorsports, garnering numerous feature race wins and championships along the way. He spent the first five years of his racing career as a regular competitor at short tracks in Maine. In 1995 he moved his racing closer to home and became a regular competitor at New Brunswick International Speedway, where he won the pro stock title in 1996. In 1999, he joined the MASCAR Tour, winning Rookie of the Year. Tucker has been a competitor with the CARQUEST Pro Stock Tour since its founding in 2001; in seven years garnering an amazing 3.5 average overall season finish - scoring two firsts, two thirds, a fifth and two sixths in final point standings.
Besides Tucker, Craig Slaunwhite - the 2006 & 2007 Scotia Speedworld Sportsman division champ from Halifax - has been nominated for Canadian Up and Coming Stock Car Racer of the Year. Slaunwhite's nomination comes as a result of his stellar performances in 2007 "test-driving" the No. 23 Fraser-owner entry on the CARQUEST Pro Stock Tour.
The 2008 edition of the CARQUEST Pro Stock Tour gets underway May 24 with the Lucas Oil 100 at Scotia Speedworld, the first of 11 races to determine the 2008 champion. The CARQUEST Pro Stock Tour is owned and operated by Maritime Pro Stock Tour Limited and features an annual series at five venues in the three Maritime Provinces of Canada.Former champions include John Flemming (2002, 2003, 2006), Shawn Tucker (2004, 2007), Wayne Smith (2001) and Rollie MacDonald (2005). For more information, call 902.481.2531 or click www.maritimeprostocktour.com
More in the print addition of Auto Atlantic. Get your free subscription here.