Introducing the Nova Scotia Mustang Club

For this issue, it gives me great pleasure to introduce you to the Nova Scotia Mustang Club. A good friend of my wife has been a member for some time and since I own a 93 Mustang, I was more than happy to send in my enrolment fee and get onboard with these folks! But while auto clubs like Low Motion have a political slant to their organization, (no street racing) the Nova Scotia Mustang Club's message is one of simpler creed.
Founded in 1994, the club was started initially to provide a social structure for its members and to promote the hobby. Membership into the club does not require you to actually own a Ford Mustang, but does require that you at least have an interest in Mustangs and in promoting the collecting, preserving and driving, (or just showing off) these beautiful and mystical vehicles regardless of year, or model. Interest and participation in the club can range from general to fanatical. To expand on this subject, I consulted with the club's President, Mr. Richard Proulx. Mr. Proulx is the proud owner of a 1978 Cobra 2, in white with green lettering. "The basic idea behind this club, says Mr. Proulx, is to have fun. We get together for runs and we do special events, like dances, club car runs and get-togethers on an ongoing basis," he says. "But again, the main theme here is to have fun and enjoy the Mustangs," he adds.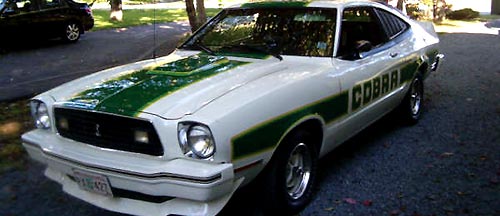 A Stang fit for the Prez! This 78 Mustang Cobra 2 is proudly owned by the Nova Scotia Mustang Club's President, Mr. Richard Proulx.
"Along the way, we do various fund raisers for charity, as well," he says. "We did stuff in the past for Christmas Daddies, etc. It's nice to lend the club's name to these very worthy and deserving interest groups," he said. "There were also funds raised for cancer research, via various dealerships, during several Mustang car shows," he adds. An interesting side note is that the Ford Motor company actually has a Mustang model designed exclusively to support breast cancer research. This is in support of the Susan G. Komen for the cure, the world's largest network of breast cancer survivors and activists working to save lives. For every car sold in Canada, Ford donates $300 from the sale of each of these cars to the Canadian Cancer Foundation, in support of a cure. The 'Warriors In Pink' series Mustang features a pink ribbon on each fender, features pink stitching on the leather seats and steering wheel and charcoal coloured floor mats with the pink ribbons.
To keep members updated on upcoming events, the club publishes and distributes its own newsletter, dubbed, 'The Pony Times.' A typical issue consists of things like a letter from the President, club meetings and times, Mustang news, a trading post, which acts as a classified section between members looking to buy or sell accessories and also a special events calendar. Likewise, the club publishes annually, a membership roster, listing all the members of the club, their cars and their respective model year and a means to contact each member. As I look through this list of members, I think I might make plans to go and visit some of their cars!!
Many Mustangs, some older, some newer, all of them beautiful, proudly
displayed at a gathering at Wood Motors (now Steele) Ford, in Halifax.
Membership into the club is a very affordable $20.00 per year. When you join, they send you an impressive and very professional package in the mail, consisting of your membership card, club decal for your car's windshield, a patch for your jacket and a welcome letter with all the contact information to the executive members and directors. New members are also furnished with a list of merchandise that is available from the club, things like T-shirts, for both adults and kids (my son, Brandon will have one!) Golf shirts, hats, hooded sweatshirts, jackets and even track suits. All funds from the sale of these items goes directly back into the club, keeping it completely self sufficient. Planned events for 2008 include a Digby Pines getaway, a trip to the Jost Winery, a Hall's Harbour run, a Laurie Park trip and even a poker run!
Mustang owners and enthusias ts gather at one of the Nova Scotia Mustang Club's social events.
As a Mustang owner, I must say that I do sense a camaraderie among other Mustang owners. Ford Mustangs, as common as they are and as many models as there have been in the past, still seem to have a magnetic mystique about them. I know I've been drawn in by it! But anyone who loves and appreciates these cars has to think for a minute about how much thanks and praise we owe to Mr. Lee Iacocca, for convincing Henry Ford Jr. (His father, Henry Ford Sr. died in 1947) to make a small, powerful, four seat car that was designed to attract the youth of America. When The Beatles arrived in America and forever changed the lay of the land where youth was concerned, Iacocca suggested that The Ford Motor Company should design what ultimately became the Mustang. They modified the already existing Ford Falcon and adorned it with new body features and the Mustang was born! When Henry Ford asked Lee Iacocca if he thought he could sell the new Ford Mustang, Mr. Iacocca replied, "Yes, of course." Mr. Ford reportedly replied, "You'd better!"
Within a short year or two, the only problem Ford had with the Mustang was whether or not they'd be able to match production with the incredibly overwhelming demand. I suppose, there are worse problems a company could have! The rest, as they say, is history. Run Ponies, run!
More in the print addition of Auto Atlantic. Get your free subscription here.