Ontario Trucker wins hero Award

An Ontario truck driver has earned the 2008 Bridgestone Firestone Canadian Truck Hero Award for his split-second decision to investigate a burning car on the side of the road.

Conrad Henry of Hamilton, Ontario, who saved the driver's life, received a trophy and $3,000 at the annual meeting of the Ontario Trucking Association in Toronto. In addition, Bridgestone Firestone Canada (BFCA) will also make a $3,000 donation to the charity of Henry's choice. The annual award recognizes professional truck drivers who demonstrate courage, quick thinking and integrity in the face of an emergency.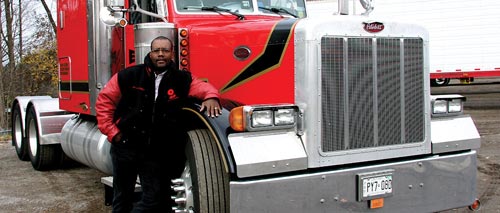 Way to go Conrad!

"Truck drivers have a long history of heroic acts," said Jim West of BFCA. "Since 1956, our company has made a commitment to honouring people like Mr. Henry who go to extraordinary measures to help fellow motorists in distress. Stories like Conrad's show what it takes to be a true hero." On October 6, 2007, at approximately 2 a.m. on a return trip from Florida, Henry noticed a car pulled over on the side of the highway near Munroe, Ohio that was emitting light smoke. A small flame burning under the car caught his attention and he pulled over to investigate. By the time he stopped, the entire front end of the car was in flames.

He used his cell phone to call 911 and made several attempts to put out the fire in the seemingly empty car with his fire extinguisher. When attempting to douse the fire, he noticed a semi-conscious driver in the seat, and was able to open the car door and drag the driver away from the car, which was now half in flames. Emergency personnel arrived and were able to provide further medical assistance, and the state police told Henry that his quick thinking and decisive actions had helped save the man's life.

The winner of the Bridgestone Firestone Canadian Truck Hero Award is selected from among nominations submitted by Canadian trucking companies, which are required to include a police statement to corroborate the nominated driver's actions.



More in the print addition of Auto Atlantic. Get your free subscription here.