Taking kids to money school
Here are some of the saving and investing basics your children or grandchildren can enjoy learning. They can practice these skills every day, no matter how young they are..
Learning to earn
Paying your children an allowance is a good way for them to learn the value of money. It also opens the door to a discussion about the essentials of financial planning, such as banking, saving, and spending.
Many parents pay an allowance based on a child's age. For example, a 12-year-old might receive $12 a week. Encourage your children to put aside a portion of any money they receive. They will learn quickly that spending their hard-earned money on an inexpensive toy might mean they can't afford to buy a more expensive video game later.
One way you can allocate a child's allowance is to divide it into three pools - one for spending, another for saving and a third for sharing with charities. This helps children not only understand the value of budgeting and saving, but also helps them develop a sense of social responsibility by giving to charitable causes. With older children, you can lay the groundwork for their retirement savings by helping them file an income tax return once they start earning money. They usually won't owe any taxes, but filing a return will generate contribution room for a Registered Retirement Savings Plan (RSP). This contribution room can be carried forward until they have enough money to make contributions and can take advantage of the tax deductions.
Beginning to budget
Offer to help your older children establish a workable budget. The budget could factor in money they earn or receive, regular expenses they expect to incur, and the savings they need for specific goals.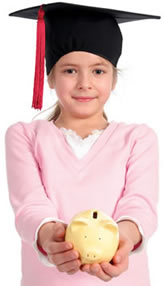 Budgeting can help them distinguish between short-term savings (a new CD or DVD), medium-term savings (a new bike or game console), and long-term savings (a car or post-secondary education).
Investing for growth
As your children grow older, you can teach them the basics of investing. The first step might be to open a savings account for them. This is your opportunity to discuss how banks pay interest for money on deposit. With straightforward compound-interest calculations, you can show how a regular amount set aside each month can grow. As a next step, try letting your older children invest in a company that produces something they know and like, or a mutual fund that invests in these companies. Showing them where to find information on their holdings in newspapers and on the Internet will make tracking their investment fun and rewarding, and give them a real sense of ownership.
While teaching your children about saving and investing will help them get on the right financial track at an earlier age, remember that few children can tackle major financial undertakings - like the cost of post-secondary education - on their own. To help your children save for their education, consider making annual contributions to a Registered Education Savings Plan (RESP). This plan allows savings for their post-secondary education to grow tax-sheltered until they need them, and lets them benefit from the Canada Education Savings Grant (up to $500 per child per year) that your RESP contributions attract. Taking your kids to money school will pay dividends for generations.
Allan Morse is Vice President and an Investment Advisor with RBC Dominion Securities Inc. in Charlotte-town, PEI. Member CIPF. Allan can be reached at 1-800-463-5544 or at allan.morse@rbc.com.
More in the print addition of Auto Atlantic. Get your free subscription here.