Maritime Motorsports Hall of Fame progress report
"It is with great enthusiasm that we are now moving forward with the tendering process for the construction of our permanent home."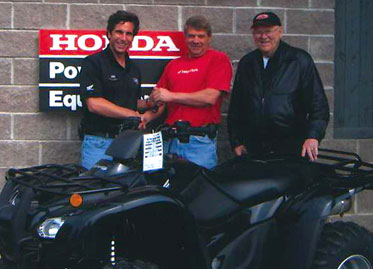 Pictured left to right: Larry Northrup, Toys For Big Boys, presenting Herman Berry Jr. with keys to a Honda 4-wheeler, and Ernest McLean, president of Maritime Motorsports Hall Of Fame
Three important dates to remember this year are:
The Petty Autofest car show being held at the Petitcodiac Arena, Petitcodiac, NB on June 7, from 10am - 5pm. This years Autofest is being sponsored inpart by the Moncton Speed and Custom Club. Proud owners of motorized show pieces are urged to bring them and show them off. Music will be by the Border Town Band. A live auction will also be part of the program. Spectator admission is donation only. Show pieces $5.00 each.
The Annual Business Meeting being held October 19, 2008. All paid members have voting rights and are urged to attend. Meeting place to be announced.
The third annual Induction Ceremony will be held at the Ramada Plaza Crystal Palace, Dieppe on Novermber 15, 2008. Ten more inductees will join the twenty already enshrined.
Tickets for this formal occasion will be $75.00 per person and must be purchased in advance. On April 19 the 3rd annual 4-Wheeler draw was held at the Petitcodiac Legion. Herman Berry Jr. of Riverview, NB was the winner.
More in the print addition of Auto Atlantic. Get your free subscription here.