Start your engines!
Atlantic race fans and drivers gearing up for one fantastic season!

When he won the championship in 2005, his plan was to run a reduced schedule. What he did was complete every lap of the season's 11 races, 1,200 in total, win three races outright and finish on top when the points were counted at the end of the year. On the other end of the scale, several tracks are running programs that allow drivers as young as 5 years old to race automobiles, 11 years before they are able to drive on Maritime highways. At Blue Mountain Speedway in Northern New Brunswick, the Blue Mountain Quarter Midget Association runs five classes for racers from 5 years of age to 15.
Scotia Speedworld outside Halifax, NS has been running its Bandolero Class for drivers from eight to 16 years of age for several years now, while Centre for Speed near Shediac, NB is introducing a new class this year for drivers up to 15 years old, with a minimum height of 48 inches (four feet). That series, known as the League of Outlaws, will be run in Sprint Midget "Winged Outlaws" with the track supplying the cars and the drivers signing up on a night by night basis.
There are 10 oval stock car tracks in Atlantic Canada, with four in Nova Scotia, four in New Brunswick, one in Prince Edward Island and one in Newfoundland.
Most run weekly races with a variety of classes, although it is not uncommon to find drivers at different tracks on different nights, for although the class names may be different, often the rules are close enough at the various tracks for drivers to run at more than one facility. In addition, there are three touring series in the Maritimes, and several tracks look to out of the area series to liven up their schedule, normally drawing their largest crowds for special events featuring series from away.
In the Maritime Provinces, the number one touring series is the CARQUEST Pro Stock Tour, which runs an 11-race schedule, appearing at five tracks in Nova Scotia, New Brunswick and Prince Edward Island.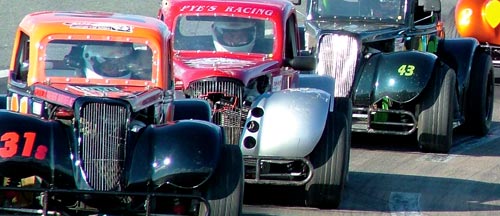 AND THEY'RE OFF!
The tour opens May 24 at Scotia Speedworld near Halifax, NS with the Lucas Oil 100 and closes out the season back at Scotia Speedworld Sept. 06 with the Parts for Trucks 200, in their third visit of the summer at the 3/10 mile oval across from the Halifax International Airport. CARQUEST Tour will also race at Scotia Speedworld July 05 with the running of the Forbes 150.
Riverside International Speedway at James River, NS, just 10 kilometers or so from Antigonish, NS, will also host three CARQUEST Tour events, beginning with the Ron MacGillivary Chevrolet 100 June 07, along with the IWK 250 July 05 and the Parts for Trucks 100 July 26.
Speedway 660, Geary, NB and Raceway Park, Oyster Bed Bridge, PE each get two races, with Speedway 660 hosting the CARQUEST 100 on June 21 and the Parts for Trucks 100 on July 26. The tour will run a pair of 100-lap features on Raceway Park's ¼-mile oval June 28 and Aug. 23.
Centre for Speed, Shediac, NB, will host the Lucas Oil 150 on Aug. 03. A pre-season press release from the CARQUEST Pro Stock Tour promises an exciting eighth-season for the area's most popular racing series, with upwards of 40 teams expected to file entry forms before the season takes the green flag for the first time this summer at Scotia Speedworld May 24. Counted among the earlier entrants for the 11-race series are three previous champions, including two-time winner (2004, 2007) and defending champion Shawn Tucker of Fredericton, NB, 2001 winner Wayne Smith of Timberlea, NS and Rollie MacDonald of Pictou, NS, who took the point's championship in 2005. Defending a CARQUEST Tour title has been a difficult task with the depth of talent the series attracts. Only one driver, John Flemming, a three-time champion, has been able to win back-to-back titles, turning the feat in 2002 and 2003.
JUST ONE MORE LAP!
Tucker believes he can become the second this year, and has totally rebuilt the Rockico Truck & Trailer Chevrolet Impala that took him to the title last year. "We felt we were a little off last year," Tucker explained. "So we reworked the old car in major ways. We're serious about defending the title." Smith, who missed last year's point's title by just 21 points, finishing third, has a new car that he expects will make him a hard driver to beat for this summer's championship. "We're looking forward to going racing this year," Smith said. "The old car was built 15 years ago so this one should be a little faster." With Tucker and Smith both claiming a faster car for this season, look for a heated battle for the 2007 title.
But, don't count out Rollie MacDonald. Already enshrined in the Canadian Motorsports Hall of Fame after a 44-year racing career, MacDonald, the 2005 champion at a young 62 years of age, seems ageless when it comes to driving a race car. "If I don't soon win another title, I'll be too old," MacDonald said recently. "Our plan is to run the entire season." The crew's up for it and so am I. But if we have a couple of bad races, the plan might change."
With 40 drivers competing for the championship, no one can truly forecast who the final winner will be, but one thing is for sure, the race to the title will be exciting.

So far, the series has two races scheduled at Centre for Speed, Aug. 03 and Sept. 21, one each at Riverside Speedway, NS, with the tentative season opener July 18, Raceway Park, PE Aug. 03 and Speedway 660, NB, Aug. 30, but expect more to be added. Rounding out the slate of Maritime based touring series, the Scotia Speedworld based Legend Cars will run a combined 18-race schedule, with 11 making up a Friday-night weekly Scotia Speedworld series and seven making up a Saturday-night touring series. Four of the races will be run at Scotia Speedworld, May 24, July 05 and Sept. 06 as part of the CARQUEST Pro Stock Tour nights, plus an appearance Aug. 09 as a support race for the Pro All Star Series Atlantic CAT 250, with one at Riverside Speedway July 19 as part of the IWK 250 CARQUEST Pro Stock Tour program, one at Raceway Park Aug. 02 and one at Speedway 600, Aug. 31 as part of the Leisure Family RV Centres Speedweekend.
Several Maritime Tracks will play host to out of area touring series during the summer, including visits by New England's Pro All Stars Series, who will run their Super Late Model Touring Series PASS North at Scotia Speedworld in the Atlantic CAT 250 August 9, their only visit to Canada this year. NASCAR's Canadian Tire Series, which races a 13-event schedule at 11 Canadian Tracks, in five provinces, from Nova Scotia to Alberta. The tour will visit Riverside Speedway, a 1/3 mile scale version of the legendary Bristol (Tenn.) Motor Speedway, situated at James River, NS September 20.
Most Maritime oval tracks run a series of weekly programs featuring local classes, combined with special events sprinkled throughout the season.
LET THE FUN BEGIN!
Shediac, New Brunswick's Centre for Speed, traditionally the earliest opening track, is getting some competition this year for first off the line honours. Centre for Speed had scheduled their first event for Sunday, May 18, but Blue Mountain Speedway near Bathurst, NB, ran their first event on Friday, May 16, while Raceway Park at Oyster Bed Bridge, PE ran their first event on the Victoria Day Holiday, Monday, May 19.Most other tracks were up and running by the end of May. Centre For Speed can claim the honours for the longest schedule of the season, however, since they will not run their final races until October 12, a full month after most tracks will have closed their gates on the season, with the conclusion of "Atlantic Speed Weeks," two weeks (September 20, 21 and October 10-13) of all out racing which brings together the top drivers from all parts of the Maritime Provinces for a number of classes, including Pro Stock, Sportsman, Street Stock and Legends. During the summer the track runs weekly Sunday racing for a number of classes, Sportsman, Street Stock, Tiger and Thunder and will host the CARQUEST Pro Stock Tour for a 150-lap feature August 3. New at Centre for Speed for the 2008 season, a series designed to introduce young drivers to the thrill of racing. The series will use Sprint Midget "Winged Outlaw" Carts, a scaled down version of the winged outlaw racers which are so popular in the USA. Centre for Speed will provide the cars, which will be leased by competitors for the races, who are maximum of 15 years old, and a minimum height of 48 inches (4 ft.).
Speedway 660, known until this year as New Brunswick International Speedway, located at Geary, QC, approximately 30 km from New Brunswick's capital, Fredericton, shows May 24 for their opening program. The 1/3-mile high banked asphalt oval will run weekly programs until Sept. 20. The track runs the only weekly Pro Stock Division in Canada, with the Irving Lubricants Pro Stock Division, which had been known as the CARQUEST Pro Stock Division up until this year, entering its 15th year of competition this summer. In addition to the Pro Stock series, Speedway 660 runs weekly races in Sportsman and Street Stock Divisions. The track also schedules a number of special events, including visits by the CARQUEST Pro Stock Tour June 21 and July 26 and a number of special events for its own classes, including a "Best of the Best" two race series for Pro Stock cars (100 laps each) May 31 and July 12 and the Firecracker Sportsman 150 Aug. 09.
River Glade Speedway at River Glade, NB, has released a tentative schedule beginning June 8 and running until Sept. 28, but there is a possibility that the schedule will be expanded. River Glade runs weekly racing in Street Stock, Sportsman, Legends, Warriors and Sunday Drivers Divisions.
HEY, QUIT SQUEEZING ME OUT!
Miramichi City Speedway in Miramichi, NB has released a six-event schedule beginning June 21, with events July 12, August 9 & 23, Sept. 13 for Dukes and Four Cylinder Divisions, as well as four demolition races.
Across the border in Nova Scotia three tracks are geared up for the racing season, while unfortunately, the Maritime Provinces' only ½ mile oval, Lake Doucette Motor Speedway has cancelled its 2008 racing schedule due to what their web site cites as "lack of interest in most classes this season, the rising cost of operations and the damage that mother nature did in the pits over the winter." However, the fact that owners Gaston and Elizabeth Comeau are offering the track for testing on days that racing had been scheduled leaves a glimmer of hope that the track could possibly offer race days before the season ends.
Nova Scotia's other tracks, Scotia Speedworld, Riverside Speedway and Island Speedway have all published schedules for the 2008 season. Scotia Speedworld, located outside Halifax, across highway 102 from the Halifax International Airport, will open its season May 24 with the first of five Saturday night specials, the Lucas Oil 100, round one of the CARQUEST Pro Stock Tour, along with support races from the Hobby Stock and Legends Divisions. Scotia runs their regular racing events on Friday night, with 15 weeks set aside for points racing in Sportsman, Hobby Stock, Legend Cars, Thunder & Lightning and Bandolero divisions, beginning May 30 and running until Sept. 12. Bandolero races, for drivers eight to 16 years of age, kicks off the weekly racing program at 7:00 p.m. In addition to opening night, Scotia Speedworld will host the CARQUEST Pro Stock Tour on two other occasions this summer, July 05 for the Forbes 150 and Sept. 06 for the series finale, the Parts for Trucks 200. The track will host a Monster Jam Summer Tour June 06, 07.
Riverside International Speedway at James River, NS, which completely rebuilt its well-known 1/3-mile high banked oval last year, does not run weekly points racing, opting instead for a summer of special events, and has scheduled five events, beginning with the first of three visits from the CARQUEST Pro Stock Tour June 7. The 100-lap Ron MacGillivray Chevrolet 100 event will also feature a 50-lap Sportsman race, the Highland Home Hardware NAPA 50.
RACETIME ACTION AT THE TRACK!
Other CARQUEST Pro Stock Tour features will be run July 19 and August 16, with the IWK 250 presented by DuPont Refinish and Steve Lewis Auto Body, including the Kenworth of Nova Scotia Legends Challenge running July 19 and the CARQUEST Parts for Trucks 100 going on Aug. 16, along with a Sportsman 50-lap event. On July 18 Riverside will present the 2008 NAPA 100 Sportsman race and a feature from the APM Open Wheel Tour, while the only Maritime visit by the National NASCAR Canadian Tire Series hits the track Sept. 20.
Island Speedway, located on Grand Lake Road outside Sydney, NS, opens its 2008 racing season Saturday, May 31, beginning a 20-week schedule that ends Oct. 12. Island Speedway features races in Street, Thunder, Lightning Bugs, Trucks and Six-cylinder classes.
Prince Edward Island's only race track, at Raceway Park, Oyster Bed Bridge, will hold their first race meet of the season on Monday, May 19, then switches to their regular Saturday night on May 31. The track will run 14 events over the summer, concluding their schedule Sept. 01. Raceway Park runs weekly races in Street Stock, Modified and Four-cylinder divisions. The facility will welcome the CARQUEST Pro Stock Tour for the Parts for Trucks 100 June 28, and has several opted special events planned for the season, including a visit by the Atlantic Open Wheel Tour on July 26 and the Maritime Legends Series Aug. 02.
More in the print addition of Auto Atlantic. Get your free subscription here.