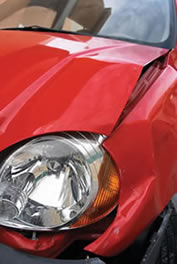 Ready to be fixed in the valley!
The bursary will assist active registered apprentices reduce the cost of higher education and employment related costs. "This human resource initiative is an excellent start to ensuring the industry develops certified technicians. Employers are taking action to attract young people and seeing apprentices through to certification," says Corrie Robley, Executive Director, ASC. "Karen & Brent continue to see the value in investing in the industry, without personal benefit, and should be applauded for their efforts." "We anticipate generating sufficient funds to help us reach our goal of $5,000 that will sustain the Bursary for five years." says Karen. "The bursaries are awarded to qualifying apprentices in the automotive collision industry. We will award two $500 bursaries by random draw each year at the annual Automotive Industry Awards Night." The following business leaders have contributed towards the first year of the bursary.
The winners of the 2008 bursaries are Corey Cosman of Belliveau Motors and Justin Ellis of Bruce Chev Olds GM. Both apprentices recently completed their third block of apprenticeship training and are on their way to achieving certification!