I-CAR in Canada at crossroads; will restructure in 2009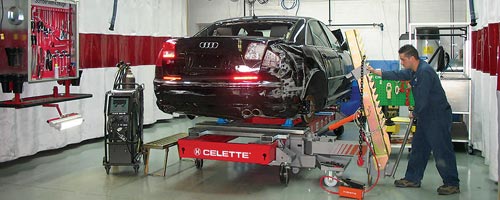 The President and CEO of I-CAR International, John Edelen, told attendees: "When you consider an appropriate allocation of corporate, general, and administrative expense, the Canadian operation has been significantly subsidized by US operations over the past number of years. Given our losses (in the 2007 fiscal year), and our efforts to regain profitability in a "down market," it is not realistic to expect the current level of subsidy to be sustained, let alone investing further in a model which is declining." Edelen explained that the Board of Directors had set up a task force late last year to provide a recommendation on I-CAR's future in Canada, because of declining student enrolment and only limited signs of improvement.
One possible alternative is the establishment of a Canadian entity that would operate independently from I-CAR and license I-CAR training. Another possibility would be to incorporate I-CAR training into a new or existing training entity that offers I-CAR curriculum as part of a broader portfolio of training options.
"The question of what changes need to be made in order for I-CAR to be successful in Canada is not a question that I-CAR can answer for itself or on its own. It is a question that must be answered by the inter-industry," he says.
The task force now has the feedback from the town hall meeting which was attended by about 100 people, plus in-depth interviews with key industry stakeholders, to consider before making its recommendation. Edelen expects I-CAR's Board of Directors to make a decision on the issue early in 2009. "I can assure you, that [at the town hall meeting], the engagement of participants has suggested there is great potential for I-CAR in Canada in the future," says Edelen.
In the meantime, I-CAR continues to schedule classes and conduct training in Canada, and will do so until it can transition to an alternative in 2009. Rolly Taube leads the task force charged with examining I-CAR's role in Canada. "I believe it's time that Canada takes charge of I-CAR's destiny in Canada," he says. Taube believes the biggest challenges involved with having a separate organization to deliver I-CAR training in Canada would be the delivery structure and the role of volunteers.
More in the print addition of Auto Atlantic. Get your free subscription here.