Canadian Racing Scene
Racecar enthusiast Kelly Williams wins women's award
At a Car Care Clinic specifically designed for women, Kelly Williams was awarded with a certificate of recognition from Women's Place in Scarborough, Ontario.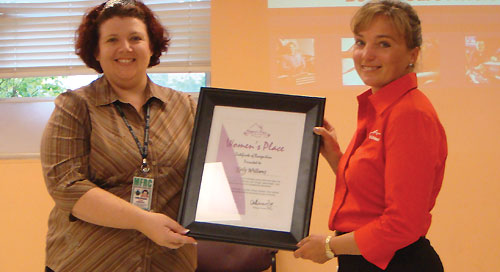 Left: Cathy Mwanza, manager, Women's Place, right, Kelly Williams, spokesperson, 'Be Car Care Aware'
"This certificate is awarded to women who actively choose to make a difference and through determination have achieved their goals and exceeded expectations," says Cathy Mwanza, Manager, Women's Place. "This certificate also recognizes Kelly as a shining example to women. The theme of Women's History Month 2008 was Women in the Lead and Kelly has made great strides in the automotive world and is an example that women can step outside the box and be successful."

In attendance were over 40 women who have a keen interest in educating themselves on the importance of preventative vehicle maintenance. The event, which was part of Be Car Care Aware Car Safety Month activities, was also attended by Bas Balkissoon, MPP for Scarborough Rouge River. Kelly shared tips to get women ready for winter roads, answered questions and discussed general vehicle maintenance issues. "It is a real pleasure for me to utilize my love of cars in a way that empowers women," says Kelly Williams, Be Car Care Aware spokesperson. "By providing women with information and educating them on the benefits of preventative vehicle maintenance, their cars will last longer, our roads will be safer and we will lessen the impact our vehicles have on the environment."

About Kelly Williams
In more ways than one, Kelly Williams is like one of her race cars, strategically driving her way forward at high-speed. As spokesperson for Car Care Canada's Be Car Care Aware campaign, Williams brings her experience as a race car driver, educator, safety advocate and promoter to the Canadian public. Williams has driven race cars for over 15 years, beginning at the tender age of 17. After graduating from teacher's college at the University of Toronto in 1994, she decided to devote all of her energy to a racing career. Her dedication and skills allowed her to quickly move through the ranks of Canadian Motorsport. Soon she started competing in what is now called the NASCAR Canadian Tire Series, the most prestigious arena for stock car racing in Canada. Today Williams keeps busy as the Spokesperson for Be Car Care Aware, is a driving instructor for BMW and hosts ladies Car Care clinics across the Country.
About Be Car Care Aware
Be Car Care Aware is a campaign to inform Canadian drivers about the benefits of regular, vehicle care, maintenance and repair. The campaign's purpose is to empower drivers to make sensible decisions about their vehicles and avoid costly repairs due to neglect. Be Car Care Aware is spearheaded by Car Care Canada and built around three key themes: safety, environmental protection and maximizing value for money spent on vehicle maintenance and repairs.
More in the print addition of Auto Atlantic. Get your free subscription here.