Ford's new 2009 Ka
goes Bond!
Is it a sign of times if the new Bond girl drives an econocar? Not really. The choice of the cheeky new small car she drives in the highly-anticipated new James Bond adventure, 'Quantum of Solace', was only influenced by the timing of Ford's introduction of its 2009 Ka. It was unveiled at the 2008 Paris Auto Show, on October 2.
The 2009 Ka will make its screen debut alongside the film's beautiful but feisty leading lady, Olga Kurylenko (photo below, beside the Ford Ka). The Ukranian actress plays Camille, a woman with her own personal mission and who quickly becomes an unlikely ally for Bond. Yet, her tiny hatchback is far from the elegant pink Thunderbird driven by Jinx in 'Die Another Day', or Tiffany Case's powerful Mustang Mach I in 'Diamonds are Forever.'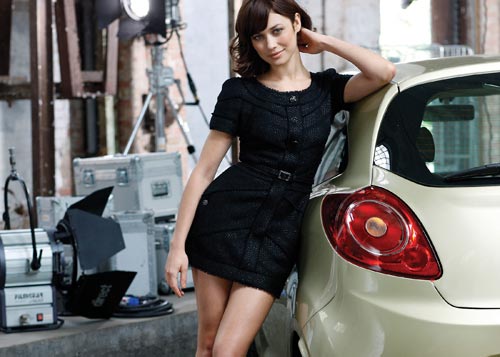 The special 'Quantum of Solace' Ka was created by Ford of Europe's Design team, in collaboration with the movie's Oscar award-winning production designer, Dennis Gassner. The 'Quantum of Solace' Ka is unique with metallic gold paint and an exclusive exterior graphics and interior trim combination.
"The new Ka is the perfect match for the character of Camille - adventurous, individual and thoroughly modern," says Ford of Europe's Chief Operating Officer, Stephen Odell. "We are delighted that the launch of the film coincides with the launch of such a significant new model for Ford of Europe." The Ka's cameo continues Ford of Europe's relationship with the James Bond films, following the debut appearance of the latest Ford Mondeo, in the 2006 blockbuster, 'Casino Royale.''Quantum of Solace' opened in Canada in November.
More in the print addition of Auto Atlantic. Get your free subscription here.