Atlantic Racing Scene
Atlantic Canada Drag Racing
As the years click on by us, Atlantic Canada continues to be a hot-bed for drag-racing.
Like many maritimers, I became a fan of this great sport at a very young age and I have many great memories of some hard fought racing battles. Many times travelling to DragCity, which was located in Lower Sackville NS, and Raceway Park in PEI just to witness some of drag racing finest strut their stuff. Back in those days, names like Uby Gaudet, Barry Paton, and Greg Nickerson who along with Allyn and Johnny Armstrong could really put on a show with their fine tuned, high powered machines. As the years rolled by, race tracks were also opened in Maitland NS, Pennfield NB, Port Hawkesbury NS, and as of today there are still 5 drag racing facilities in operation right here in Atlantic Canada. Currently these five fully equipped drag racing tracks are located in Sydney NS, Oyster-Bed Bridge PEI, Greenfield NS, Miramichi NB, and Clarenville NFLD. Each of these race tracks host regular competitions in no less than 5 classes.

Moncton, New Brunswick's Kevin "Capone" Trites, prepares his super-charged dragster for a run at Cape Breton Dragway in Sydney
These classes of racing include:
Super Pro Class - 11.49 seconds elapsed times and quicker
Pro Class - 1:50 – 13:49 second elapsed times
Street Class - 13:50 second elapsed times and slower
Bike & Sled Class - Any motorcycle or snow mobile
JR. Dragster Class - Racers ages 8-16
The economics of successfully operating a race track in Atlantic Canada has drawn the management of all these tracks closer together. To insure their success each year, they actually work around the same table to help construct a race schedule where each track can host their own championship points series. They also have developed a race series under the guidance of the ADRA (Atlantic Drag Racing Association) and each track will actually host 2 ADRA events each season. The ADRA is a race sanctioning body with approximately 300 members who have really assisted in keeping the sport alive. Through the great support of many Maritime sponsorship deals, the ADRA also hosts a championship points series, crowning their champs each year in all five classes.
If you would like to know more about drag racing in Atlantic Canada why not check out their main website. www.maritimedragracing.com. Also, as an added bonus, you can follow the ADRA championship series by using their website at; www.theadra.com.
New York team takes second Targa Newfoundland win
Racing on the 'Rock'
This is the second year in a row they have won the event. The pair, who finished the competition with only 25 seconds in penalties over the 2,200-km, six-day event, drove a 1969 BMW 2002. In the Grand Touring (equipped) division, John Vandemierden and Stu Lehmann took first place in a 2008 Lotus Exige, while Alan Kearley and Greg Martin in a Mazda3 Sport GT took Grand Touring (non-equipped). Final results for all classes and categories are available by visiting www.targanewfoundland.com.
Nova Scotia's Fred Broussard Jr. wins
'Driver of the Year'
Fred carrying the checkered flag at the Atlantic Championships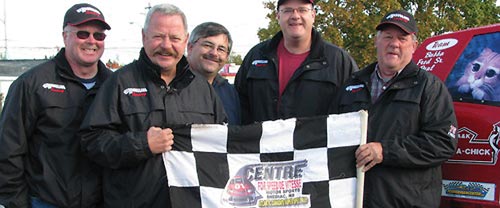 The winning team!
This year's winner came from Island Speedway in Sydney, Cape Breton in the person of Fred Broussard Jr., a street stock racer who had retired and came back two years ago. Fans had nothing but good things to say about Broussard, from his style of racing to the effort and care he put into the building and maintenance of his car. Broussard finished second in the points racing at Island Speedway this year and went on to capture the Atlantic Championships on October 12th.
The race was a very tight one this year as Speedway 660's Rick Cashol received many votes and lost on the final day of voting. In total over 3000 votes were cast by fans all over the Maritimes and as far away as Afghanistan. Broussard joins Sandy Livingston Jr., Todd Tufts, Jerome Kehoe, Jonathan Hicken, and Glen Nott as winners of this honour.
More in the print addition of Auto Atlantic. Get your free subscription here.