Atlantic Update
A salute to PEI 's Roy Creed
Charlottetown based Creed's Petroleum has been serving the industry throughout PEI since 1948. The event which took place at The Dutch Inn on September 17th. was organized by the PEI Petroleum Marketers Association. It was attended by over 200 current and former service station dealers, petroleum marketers, government officials, and numerous friends and neighbours.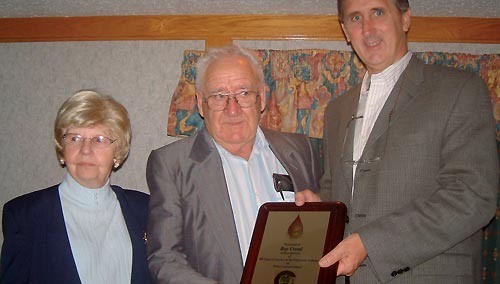 Mike Hennessey, President of the PEI Petroleum Marketers Association
congratulating Roy and his wife Alvina
Creed's Petroleum has earned tremendous respect and an outstanding reputation for its dedication to providing excellent maintenance and repair service to the petroleum industry on PEI. Roy Creed was responsible for the majority of most Island underground petroleum storage tank installations and removals, as well as most pump island facilities for over half a century. Numerous guests spoke of the honesty, dependability and dedication to excellent service they received from Creed's throughout the many challenges faced by the industry during the last 60 years. Others spoke of the personal qualities of Mr. Creed himself, citing his willingness to help anyone in need, regardless of the time of day or weather conditions. Creed developed a team of very capable employees who share his commitment to customer service and are fiercely loyal to their friend and employer. Most of his employees have been with him for decades and credit him for their strong work ethic and desire to do their best.
New GM dealerships in Nova Scotia
The dealership runs full sales, service and parts operations in Yarmouth and Barrington and the Yarmouth facility features one of the largest full scale collision center in the area. Murray GM is the largest all line GM dealership in the Maritimes, offering all GM brands including, Chevrolet, Pontiac, Buick, GMC, Medium Duty trucks and Cadillac. The two dealerships sell a combined 1200+ units annually and represent the largest GM dealership in Nova Scotia outside of the Halifax Dartmouth area.
Managers:
Dealer Operator - Jeff Little
Sales Manager - Gary Ellis
Service Manager - Robert McCarthy
Parts Manager - Art Stuart
Collision Centre Mgr - Mitch Bethune
Barrington Mgr - Greg Harnett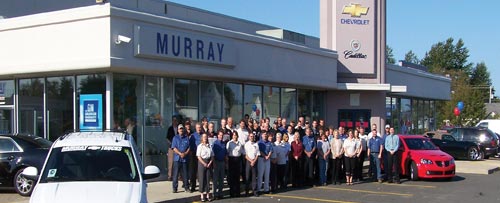 The staff at the Yarmouth location
The Murray Auto Group. The group operates 21 dealerships in small towns and communities across Canada from Abbotsford BC to Yarmouth & Barrington NS. With 21 dealerships, the Murray Auto Group is one of the largest dealer groups in Canada. They are the largest General Motors automotive dealer group in Canada and now with the opening of the Nova Scotia stores, the Murray Auto Group is the only coast to coast dealer network in the country.
The Murray family has been in the automotive business for over 80 years. In 1926 A.A. Murray opened a General Motors dealership in Souris, a small town outside of Brandon, Manitoba. Clair Murray and his brother eventually went to work for their father and took over the business. The Murray family, based out of Brandon, eventually moved their operation to the town where Clair opened Murray Chev Olds, the home base for Murray Automotive Group. Clair, the CEO of the group and his four sons, Doug, Paul, Dan and Chris oversee the group's operation while running their own stores in four different communities.
Coffill's Canning, NS Autopro adds new twist!
At Albert Coffill's NAPA AutoPro in Canning, Nova Scotia, a happy technician is a productive employee! And to that end, Coffill transformed a section of his repair outlet into a full-fledged 'Tech Lounge' - complete with Pool table, big screen and sofas! Coffill said the relaxation area purpose is two-fold, "we may have a good customer who prefers to wait for his/her vehicle, so they can relax a bit and shoot some pool!

Albert's NAPA AutoPro in Canning, NS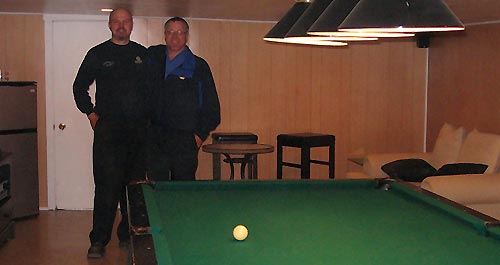 Albert Coffill (left) with Mike Zwicker-NAPA sales
Our techs also 'switch gears' during their lunch and break times or in the evening sometimes." Albert Coffill is a huge NASCAR fan and no doubt the televised NASCAR races will become very popular at this billiards emporium. The Coffill's may have to start charging admission and sell tickets! Coffill's Autopro in Canning, Nova Scotia, going the extra mile to provide employee satisfaction!
A Well- Deserved Retirement!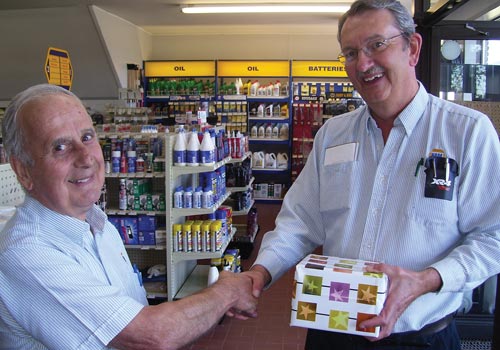 Wayne accepting gifts from long-time employer Peter Dupuis
Wayne Handspiker officially retired on October 10th after a long and dedicated 33 year career with NAPA AUTO PARTS. He was actually part of the original UAP Digby Store back in 1975. Now, a second career beckons and Wayne will devote all his extra time to his many hobbies, which include: workworking, carving, gardening and of course his family. A retirement party was held in the NAPA Digby store attended by family, friends and co-workers. "Happy Retirement" to Wayne Handspiker and thanks for serving the Automotive Industry so well for 33 years!

More in the print addition of Auto Atlantic. Get your free subscription here.