The Car Care Canada
award for car safety journalism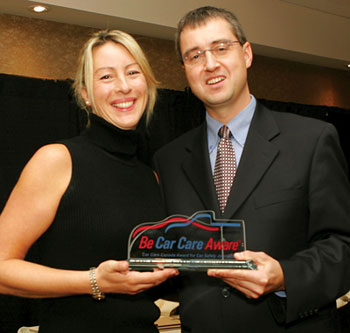 Car Care Canada is pleased to announce that Nadine Filion is the winner of the 2005 Award for Car Safety Journalism. Her article Danger à bord appeared in the March 2005 edition of Sélection (Reader's Digest) magazine. Marc Brazeau, Vice President of Car Care Canada, presented the award.

"Nadine's article took a fresh perspective on the issue of car safety by looking at what people keep inside their vehicles and the threat these items pose to passenger safety in the event of an accident," explained Brazeau. "Not only was the topic fresh and original, it also reached a mainstream audience that is usually difficult to engage with a car safety or maintenance message."

A panel of three judges read the submissions and were not only impressed with her writing style but also Ms. Filion's ability to engage the reader with thought provoking arguments against habits many motorists never considered dangerous.

The Car Care Canada Award for Car Safety Journalism is a new award for the Automotive Journalists Association of Canada (AJAC) as part of the 22nd Automotive Journalism Awards Competition. The Award was created to encourage the coverage of vehicle safety as an important component of overall vehicle maintenance. Articles related to all aspects of vehicle safety, from new technologies to vehicle maintenance were considered.

______________________________________________________
ROTARY introduces
higher-capacity low-rise lifts
New design makes it possible to work on a wider range of vehicles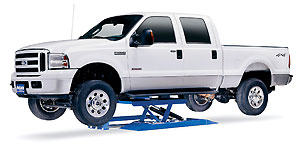 Rotary has redesigned its VersaLift family of low-rise vehicle lifts to handle higher capacities, enabling technicians to use the lifts to service a wider variety of vehicles, including trucks and SUVs. The VLXS10 VersaLift offers a lifting capacity of 10,000 pounds, while the VLXS7 VersaLift can lift up to 7,000 pounds.

"As the leader in the vehicle lift industry, Rotary is seeing an increase in the curb weight of vehicles," explains Bob Ford, Rotary product manager. "To meet this changing market dynamic, we have redesigned our low-rise lifts to give our customers the higher lifting capacities they need to safely service a wide range of vehicles."

Low-rise lifts are used for a variety of quick service tasks, including tire and brake work, detailing, body work, refinishing, new car prep, visual inspections and estimating.

They eliminate time-consuming jacking and bending that can be hard on technicians' backs. The VersaLift's newly designed pads and adapters, wider drive-over capability and increased lifting capacity combine to create a more versatile low-rise lift.

The lifts' pad and adapter combinations allow lifting of unibody and frame-contact undercarriages to reach recommended manufacturer pick-up points on most passenger vehicles. The VLXS10 also has ramps and side drive-over areas to accommodate wider wheelbase vehicles.

The VersaLifts' rises range from 21¾ inches to 307/16 inches. They can be used indoors, in facilities with ceilings as low as nine feet, or outdoors. The lifts' ergonomically correct design is based on ideal wheel-spindle height. VersaLifts mount securely to the floor, eliminating floor-gouging rollers. A three-position wheel-spotting dish comes standard with the lifts, for accurate spotting of vehicles.

For more information about Rotary's new high-capacity VersaLifts or any other Rotary Lift products, visit them online here.

______________________________________________________
NGK wins impressive award
Mr. Robert Tribe, General Manager, Sales & Marketing, NGK Spark Plugs Canada Limited is pleased to announce that NGK Spark Plugs Canada Limited has been awarded the 2005 Corporate Ambassador for Sales Excellence Award by the Canadian Professional Sales Association.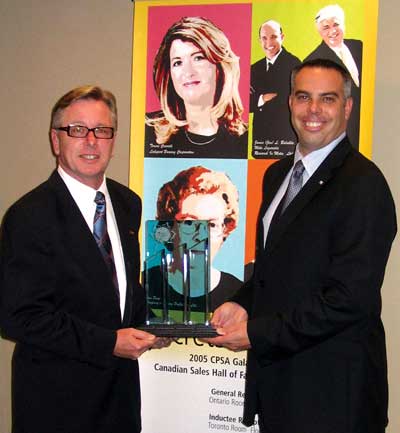 This Award was created to recognize the efforts of a company in developing its sales people and to increasing professionalism in sales. The Professional Standards Council of the CPSA deliberated over the list of national finalists that met the following criteria:

The organization supports the sales certification process by employing at least 50% of their sales team as Certified Sales Professionals.

The company is committed to professionalism and continuous improvement by providing and enforcing the Maintenance of Certification requirement of 20 hours of training per CSP annually.

The designation has become one of the criteria, or given preference, in the hiring process the company has mandated or strongly recommended the designation for new and/or existing reps.

The CSP program has been incorporated into the corporate training and development plan.

After careful consideration, the Council unanimously agreed that the 2005 Corporate Ambassador for Sales Excellence Award be awarded to NGK Spark Plugs Canada.

In announcing the Award, CPSA said that NGK had met, and in some cases exceeded the above criteria. The Award was presented at the CPSA's Annual Sales Hall of Fame Awards Dinner, November 3, 2005, at the Fairmont Royal York Hotel in Toronto. Contact Robert Tribe of NGK.

______________________________________________________
Toyota breaks ground
in Woodstock, Ontario
New plant to employ 1300, will open in 2008

Canadian Prime Minister Paul Martin, Ontario Premier Dalton McGuinty, Toyota Motor Corporation (TMC) President Katsuaki Watanabe and Toyota Motor Manufacturing Canada (TMMC) President Ray Tanguay broke ground recently at the future site of a new Toyota plant.

This will be the first new "greenfield" automotive plant in Canada in nearly 20 years. Announced in June, the Woodstock plant will be managed by TMMC in Cambridge. It opens in 2008 and represents a $800 million investment. It will have the capacity to build 100,000 units annually of the next-generation Toyota RAV4 sport utility vehicle and will employ 1,300 team members.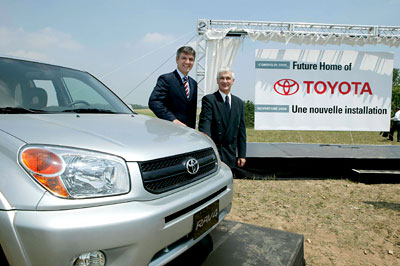 Toyota announces new plant in Woodstock, Ontario. The Honourable Joe Cordiano, minister of economic development and trade and Ray Tanguay, president of Toyota Motor Manufacturing Canada (TMMC), standing at the future home of the RAV4.

TMMC currently employs 4,300 at its Cambridge location where it produces the Corolla, Matrix and Lexus RX330. Mr. Watanabe discussed Canada's importance to Toyota's North American strategy. "Last year North America accounted for 30 percent of Toyota's worldwide sales and we expect this number to grow as we begin production of the RAV4 here in Woodstock," he said. "This country is a core part of our extensive commitment to manufacturing in North America."

Mr. Watanabe cited three pivotal reasons for selecting Woodstock, Ontario for the investment: accessibility to world-class suppliers, an outstanding team in nearby Cambridge where Toyota has operated a plant since 1988 and the full support of Canadian national, provincial and local governments. "We love being in Canada and we look forward to a long and prosperous future in Woodstock," he added.

Actual site preparation started last month; foundation work is scheduled for next March and steel erection is set to begin in June of 2006. The building will be enclosed by the following winter with equipment installation scheduled in 2007. Start of production is set for 2008. "Our job here in Woodstock is to make this the best plant in the world by being environmentally friendly, efficient and producing the highest quality vehicles," Tanguay said.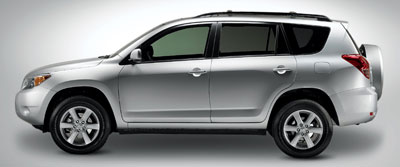 Toyota RAV4 - soon to be made in canada

During the ceremony, Toyota announced the donation of a large private residence, located on the edge of the plant site, to the Victorian Order of Nurses to operate as a hospice. Tanguay reflected on the company's priority of being a good corporate citizen. "We do that by building vehicles and adding value to society. We also achieve it by strengthening the social fabric of communities through activities outside of the factory. We look forward to seeing this hospice up and running and are certain it is in very capable hands."

Tanguay also observed that the groundbreaking ceremony represented "the start of a great partnership with Woodstock and Oxford County." By 2008, Toyota will have the annual capacity to build 1.81 million cars and trucks, 1.44 million engines and 600,000 automatic transmissions in North America. The company's direct employment is 38,000 and direct investment is nearly US$16.3 billion with annual purchasing of parts, materials, goods and services from North American suppliers totaling more than US$26 billion.

Toyota's North American-produced vehicles include the Avalon, Camry, Corolla, Matrix, Sienna, Solara, Sequoia, Tacoma, Tundra and the Lexus RX3. Contact Toyota Canada.