Shaw Auto celebrating fifty years in Plaster Rock, New Brunswick!
By Marty Kingston


It's not very often a business turns 50 years old and in the Automotive aftermarket- very rare indeed and should be celebrated! SHAW AUTO in Plaster Rock, NB, turned the big '50' recently. This NAPA associate opened in 1955 as a partnership between Clayton Goodine, Glasier Goodine and Perley Shaw.




Dana Hanscom-35 years; Philip Kierstead-20 years; Lloyd Kierstead-50 years; Doris Urquhart-6 years

Shaw Auto became the very first UAP associate in Atlantic Canada in 1966. Lloyd Kierstead , who is an original employee and manager since 1968, purchased the company in 1986. In 2002- all UAP stores converted to NAPA locations.




Lloyd Kierstead points to the loyalty of customers and staff as benchmarks, "I've enjoyed a veteran staff and many regular patrons over the years and we've always considered our customers as number one!". To mark the event, a Birthday party was held in the Store with many visitors, well-wishers and former Store employees. HAPPY BIRTHDAY - SHAW AUTO on your 50th! You can Email Marty here.
______________________________________________________
Moncton's
Monster night!
By Cindy Fitzsimmons
Uni-Select Inc has recently held their "MONSTER EVENING" across Canada, where two 2006 Mustang GT's were given away to installers! This event was for Installers, and by invitation only. (each Uni-Select Divison across Canada held these Monster Evenings simultaneously, and the draw was done via electronic ballot).






Our Atlantic Auto Parts Plus and Auto Plus jobbers invited their customers to this event which was held at the Moncton Coliseum. The winner of the Uni-Select sponsored Mustang was: Mr. Stephane Poirier of Entreprises Centre-Ville, (Caraquet, NB). Stephane is a very good customer of our USI Atlantic Member: Max Piece's D'Auto, Caraquet, NB.

The winner of the Raybestos-sponsored Mustang was: Mr. Paul Major of Garage Jean-Claude Major, (Montebello, QC)

There were also 4 "runner-up" prizes awarded within the Raybestos promotion. The following 4 people won $1,000 in cash! Pacific - Rob Barbon and Dave McIntyre, Victoria, BC; Prairies -John A. Calder, Calgary, AB; Ontario - Bill Middleton, London, ON; Atlantic - Brian Gavin, Tignish, PE. Congratulations to all! You can Email Cindy here

______________________________________________________
RGDA of PEI's new directors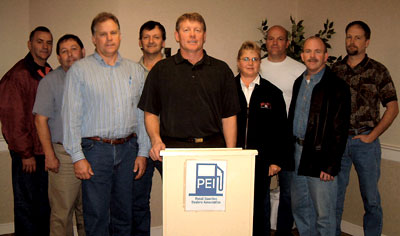 By Dale H Mader

Members of the Retail Gasoline Dealers Association of PEI met in Charlottetown on October 15,2005 to discuss association affairs and matters of concern to members. During the meeting, Wayne Vloet was re-elected as President and a number of new Directors joined the Association Executive.

Pictured above are the new Board of Directors (left to right) Larry Arseneault; Sonny Gallant; Brian MacArthur; Donald Arseneault; Wayne Vloet; Arlene Miller; Austen Roberts; Rick Kennedy and Norman Clow. You can contact Dale here.
______________________________________________________
Buctouche's Maurice Collette wins the NAPA OCC chopper!
By Marty Kingston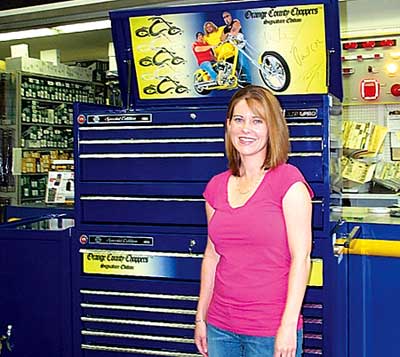 Only 4 Orange County Chopper Tool Cabinets were awarded across the Country as secondary prizes and the Atlantic Provinces winner was Jennifer Perry of Shelburne N.S., shown here with her prize at NAPA Shelburne.

NAPA's Orange County Chopper promotion was a big hit for the 600 NAPA stores across the Country. Over 65,000 ballots were submitted by customers and much to his great surprise and delight- this beautiful OCC Chopper was awarded to Maurice Collette from Buctouche NB! (below).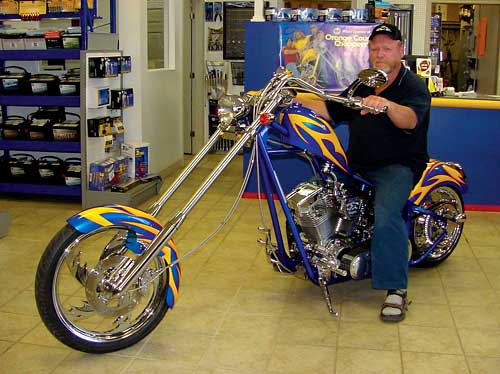 Collette is employed with the Town of Buctouche and is a regular customer at Derek & Wanda Price's NAPA Buctouche store on Irving Blvd. NAPA Canada afforded Mr. & Mrs. Collette the royal treatment- they were whisked to Montreal for an all-expenses paid weekend and the Chopper was presented at Olympic Stadium in front of 55,000 spectators at the NAPA Motocross Event this past Fall. Collette and his new 'toy' returned to Buctouche where the Chopper was on display at the NAPA Buctouche store. You can Email Marty here.

______________________________________________________
Pat Fleckney appointed Atlantic Undercar Parts Manager


Patrick Fleckney started his automotive career in March of 1978, with UAP, and was promoted to manager in August of 1979. Pat worked at UAP until January 1985. In 1985, he started with Canadian Tire Auto Parts Depot in Hammonds Plains, NS, and was promoted to senior order desk clerk in 1995. He worked there until the business closed in August of 2003. Pat started at Atlantic Undercar on October 17, 2005 as Parts Manager. You can Email Pat here.

______________________________________________________
NAPA store
re-openings!
By Marty Kingston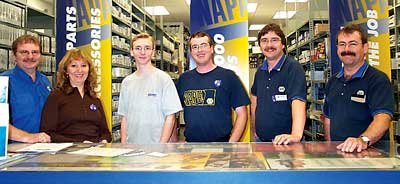 L to R, owners Rex & Carole Decker; Grant Decker;
Stan Drover; Ken Strong; Jim Ledrew

A number of NAPA Auto Parts Stores hosted customer appreciations evenings and grand openings recently. In Clarenville NFLD, this brand new NAPA location (above and below) had their grand opening recently.




Owner Rex Decker built a brand new store on Manitoba Drive which features a large showroom and large parking area.




On Nova Scotia's South Shore - NAPA Liverpool. Re-identification is complete and what a beautiful store! Manager Fred Arenburg hosted a customer night recently and it was well-attended.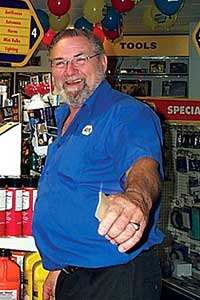 NAPA's Reg Tanner welcomes customers
to evening Meet & Greet in Liverpool, NS.

The Liverpool location has quadrupled in size with additional parking and increased room for inventory. In historic Lunenburg- The expanded NAPA Lunenburg store also hosted customers, along with their grand openin. You can Email Marty here.