Halifax LAR show -
into the future

xBy Terry Waterfield
In its 25 years of operation LAR (Leader Auto Resource LAR Inc.) has grown into the largest car dealer buying group in North America, now representing more than 1,300 car dealerships. "We created an organization which we are the owner. An organization devoted exclusively to satisfy our dealership needs," the LAR website explains.

With 1,300 dealerships involved with LAR, the organization has tremendous buying power with its suppliers, an advantage which it translates into improved service and higher profits for its dealers.

In March, 2005, Michel Bourgeois joined LAR as National Sales Director, with "a mandate to reorganize the sales team . . . and improve the sales penetration". Bourgeois brought close to 30 years experience in the aftermarket experience to the job and went right to work. "LAR has been founded with a first generation of dealers and now their sons or their daughters are taking the lead in the business," Bourgeois explained. "We need to communicate to these young people what LAR is all about, and how we can work together."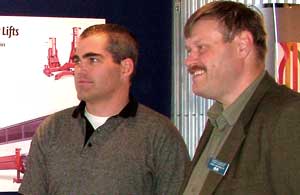 Rotary Lift - Pete Martin, Regional Manager, Ontario
and Maritimes, Mike Skerritt, Cannell Sales

LAR uses the buying power of its 1,300 members to get the best deals possible from its suppliers on behalf of its members, translating this power into better service and profit margins for these members. LAR takes only a minimal administration fee to cover its operating expenses, returning all other profit to its members.

In addition, LAR is able to assist its members in other areas, such as assisting in dealership equipment needs, providing an employee with over 35 years experience in equipment technology to assist in reaching the best solution, taking into account the dealers requirements and budget. LAR is also able to assist the dealer in the financing of such major purchases under a leased/buyback convention.

After 25 years, LAR is looking to the future and the changes that are coming as a new generation begins taking over the dealerships they are proud to have as members. "My first mandate was to reorganize the sales team and make sure that we had the right people in the right places," he explained.

"We are very pleased with the team we now have on board." "Part of the mandate also, is to improve the sales penetration. We decided to be more involved with our suppliers, to work with them, to give them more attention, to establish plans and targets, measure the results and work in a well organized manner.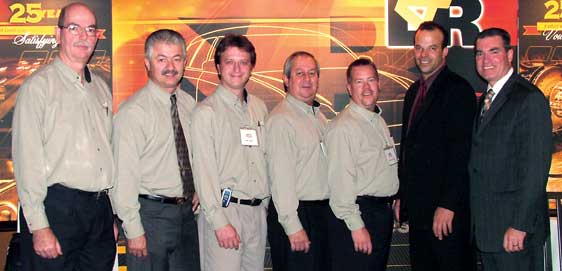 Leader Auto Resources (LAR) - Wayne J. Dover, Product Manager, Equipment, Richard Villeneuve, Sales and Business Development Manager, Automotive Refinisher, Michael (Mike) Palmer, Technical Consultant, Robert Miron, Sales manager - Equipment Division, Marc Andre Amann, Sales and Development Manager, LAR Finance, Justin Gallant, Account Representative, Michel Bourgeois, National Director of Sales

This is exactly what we are doing now and we're very pleased. "In my mind it has to be a win-win situation. It has to be a win for the suppliers to join the co-op, to be part of it. And also for us, we need to have the suppliers that are ready to work and give a better service to the members. "This is exactly what we are putting together now."

Celebrating the 25th anniversary this year seemed a perfect time to kick off the new ideas, so LAR organized a series of seven trade shows in Quebec, Ontario and the Maritimes to bring the dealers and suppliers together at one place. Known as "EXPOLAR", this show visited Halifax on October 12 and Moncton on October 13.

Running through the afternoon and evening, the event drew large crowds of dealers at each event, providing an opportunity for the LAR dealers to talk face-to-face with the suppliers.

"This is part of the 25th anniversary activities," Bourgeois said. We also invited the "new generation", the young people who will eventually replace their parents in the business, to a special lunch meeting. The purpose was to talk about LAR, where we are coming from, where we are and where we are going. They are really pleased to know more about LAR."

The events, which drew large crowds, gave the LAR dealers to opportunity to meet with the LAR management team, learn more about the organization and as well, network with a large number of suppliers to learn more about their operations and products and even take advantage of a number of special offers. Visit LAR online.