Motor Vehicle Inspections—An ounce of prevention

Do you drive an older vehicle, as a second car, like I do with my cherished 93 Mustang? Has your car recently failed to pass inspection for issues that might surprise you, ones that you didn't think were such a big deal perhaps, in the past? Well, valued reader, where MVI, or Motor Vehicle Inspection is concerned, as the old saying goes, "The times they are a changin!" Or better yet, they have already changed. Recent changes to the MVI laws that affect Atlantic Canada are in place, but still there are unanswered questions and much confusion among motorists.
To expand on the ins and outs of what is new, or has changed, I consulted with Gary Gallant, manager of Mighty Automotive's Bedford location. After all, my Mustang has been in his shop a couple of times over the past year, for maintenance and they always do a great job. Take it, Gary!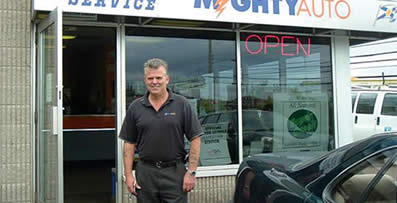 Gary Gallant, the manager of Mighty Automotive in Bedford, NS
"Changes to the MVI rules came about because a lot of motorists were mislead by the old legislation," says Gary. "We'd see situations where folks would come in and get their cars or trucks inspected, we'd pass the vehicle and two weeks later, we'd get complaints from customers saying that they blew a brake line, or that their brakes are worn out since they were in."
"What the Government has legislated now, is that we pay very close attention to things related to a vehicle's braking system," says Gary. "We have to be incredibly careful now. We now pull all four wheels off and check the vehicle's entire brake system over. We check the rotors and pads, the brake lines, the wheel cylinders, the fittings and collars, calipers, etc, and we make sure that the entire system is in sound, structural condition. "Let's face it, steel brake lines deteriorate," says Gary. "We can't fail it for a bit of rust, but if a technician spots a lot of rust and it's flaky, then the line will not pass."
"We look for things like cracked, kinked or improperly installed brake lines. It's a common sense thing, really," says Gary. "When you need to stop and you can't, it's a huge problem for anyone involved. The last thing you want to have happen is to press the brake pedal and have nothing happen," he adds. That makes perfect sense, right?
But another rule that has come along regarding MVIs is that apprentice technicians are no longer allowed to do them. "Now, a technician has to be 100% licensed and qualified prior to doing Motor Vehicle Inspections," says Gary. "If your licensed name and certificate is not on the wall, you can't do an MVI now."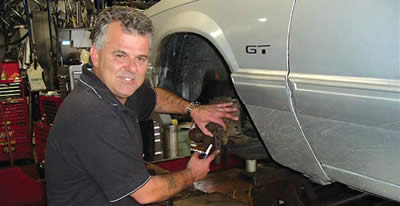 Gary Gallant points out just how badly my 1993 ford Mustang really needed new pads and rotors.
Ok, so we are now being a lot more cautious about things like brakes and being more proactive in our approach to MVI's these days. But there is still one area of the new MVI rules that has been the topic of much debate. The issuing of REJECT stickers. "Many people thought that we don't issue them anymore," says Gary. "And, you don't see a lot of them out there these days, but we do still issue them, if the circumstances prevail."
It used to be that if you brought your vehicle in and it didn't pass safety, you'd issue a red REJECT sticker on the windshield and the owner was free to leave and come back in a given number of days and show that the necessary work was done to the vehicle before the new "Inspected and Approved" sticker was added. Now, for your car to be the recipient of a reject sticker, there can't be a lot wrong with it," says Gary. "For example, if you have minor things like a headlight out or a very minimal amount of play in a ball joint, we can put a reject sticker on it, but the technician has to deem the car to still be road worthy. When this happens, we have to fill out a reject report and submit it to the Department of Motor Vehicles.
But if you have severe mechanical defects, something that could be a potential threat to the public safety, we will not issue a reject sticker and the car owner has the choice of either getting the necessary repairs done, or they can have the car towed to their home or another garage," says Gary. "It's a bit stringent, I'll admit, but for every car that's out there with sound mechanical parts and brakes, we can all rest a bit easier, he says. "And as for my 1993 Mustang, she has an appointment for new rotors and front brake pads, at 1PM tomorrow at Gary's shop. Again, an ounce of prevention is still worth a pound of cure. Until next time, take care and happy motoring!
PS, if anyone has any information for me with regards to a Halifax based Mustang club, I'd love to hear from you! jaynjo@ns.sympatico.ca.
More in the print addition of Auto Atlantic. Get your free subscription here.